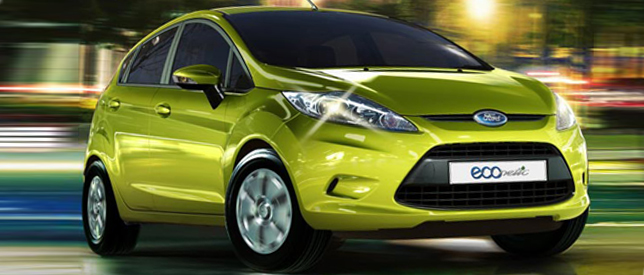 4

Jun

15
Ford ECOnetic is the most efficient technology that makes the Fiesta extra fuel efficient than ever before
Ford ECOnetic technology is one of the most modern fuel-saving technologies that boost engine performance. When it comes to the Ford Fiesta engines, it returns best ever fuel saving figures. With the ECOnetic technology Ford Fiesta returns 88.3 mpg and is the most economical Fiesta ever.
Ford Fiesta ECOnetic has a new 94bhp 1.5-litre diesel engine to make the Fiesta extra ordinary in fuel savings.
This 1.5-litre engine has an optimised combustion chamber, most modern turbocharging and new fuel injection technology. All these features help the Fiesta to cut down carbon emissions by almost 16g/km and previously the carbon emissions were 82g/km. It also shows an improvement of 3g/km over the 1.6-litre TDCi engine.
Additional features include start-stop technology, the smart regenerative system for the charging of batteries, low resistance tyres to further boost the fuel economy. New Fiesta ECOnetic has enhanced aerodynamics and optimised transmission.
It is not the end of Ford world because it has also introduced a B-Max MPV with about 100g/km CO2 emissions. It has a 1.5-litre engine with TDCi technology, and complies with the Euro6 complaint. It is a fuel efficient MPV as well and returns 74.3 mpg on average. It emits 98g/km of carbon that straight away exempts it from annual road tax.
Ford Ka has also adopted some changes and introduced a pair of new editions with a new kit for the Titanium models. The black edition and white edition of Ka offers 16 inch alloy wheels. It has unique seat trims with a luxurious steering wheel. Titanium has heated leather seats and panoramic roof, however a rear parking sensor is offered as an exclusive feature. The EcoBoost 1.0-litre engine is introduced as a standard power source in the Fiesta Zetec S. it returns 62.8 mpg and emits 104g/km of carbon.