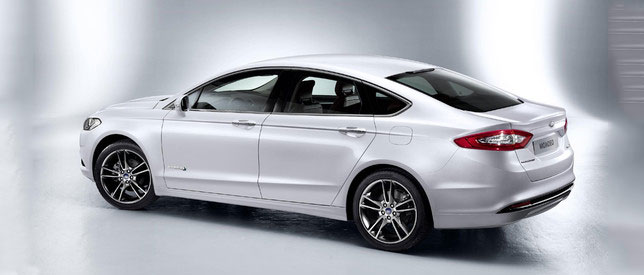 14

Oct

14
Finally! Ford Mondeo hits the road as tech-fest, more mature and refined car
The Ford Mondeo is the best ever car produced by Ford and has been worth the wait because it is mature and refined than ever before. It is modern, elegant and driver's darling car but it has lost something in the new generation, the sharp steer in the class. But several new tweaks have covered this gap very easily in the new Ford Mondeo.
It was first introduced at Detroit Motor Show 2012, as a sleek and smart car, now it's been manufactured at the Valencia production facility in Spain. The all new Mondeo is a cleaner and greener car that emits only 100g/km CO2. It has an electric power steering, refined suspension, and refreshed dashboard design. It is exclusively available with safety kits, pedestrian detection system and on road object detection system with autonomous braking system.
Inside the cabin of European versions, climate control has physical buttons to control the internal environment, while the US version has touch screen panels. If you like the touch interface, you will be satisfied with Ford Sync 2 Interface on the new Mondeo.
Ford engine line-up offers a great range of engines but our first drive of the Mondeo was in a 2.0 litre TDCi. It offers 178bhp which is quiet enough to beat the BMW 320d and or Mercedes C220. It emits only 115g/k of carbon which isn't that shabby either.
A 1.6 Litre engine is a bit under-powered unit and it is expected to arrive in the Mondeo 2015. It is expected to be the best seller Mondeo because of its lower emissions e-g just under 100g/km and class leading fuel economies of 78.5mpg.
We are also expecting a 1.0 Litre EcoBoost engine that will be capable of generating 123bhp from three cylinders and a 240bhp version on the higher end. A 4-door petrol electric Hybrid version with 99g/km is also available with 1.0 Litre EcoBoost engine.
Ford Mondeo is offered in its best ever form for the 2014 model year.