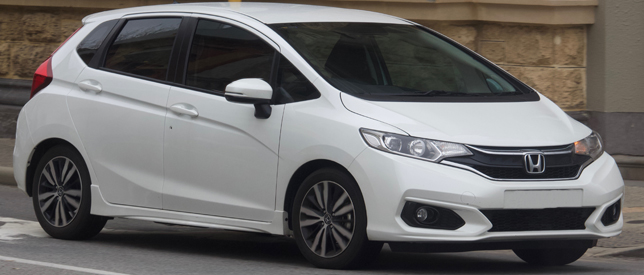 17

May

19
In hatchbacks, Honda Jazz is fast, comfortable, reliable and easy to drive
Honda is considered a good name in the field of automobiles due to its versatile products. Its products are well used in all over the world due to its built standard, stylish appearance and practicality. Honda never compromises on the quality and safety of its products.
With a good practical approach, its products are spacious for occupants and have good storage capacity. Honda Jazz hatchback is undoubtedly the best vehicles for a family because of its good practical approach. Honda Jazz hatchback is well covered by competent rivals such as Nissan Note, Peugeot 2008 and Skoda Fabia hatchback.
The single petrol engine is enough for this hatchback
There is a 1.4-litre Honda Jazz engine under the small curvy front hood of Honda Jazz hatchback. It is capable of 100bhp and 90lb/ft torque. It is reasonably quick in response.
It takes 10.9 seconds to reach from 0-62m/h along with the top speed of 120m/h, impressive speed for a hatchback. Its fuel average is very good with 55m/g and Co2 emissions are 116g/km.
This engine is a very affordable vehicle in the city and also good for long routes due to its comfort. This petrol engine is fitted with six-speed manual and one-speed CVT transmissions as standard along with front-wheel drive unit. Honda Jazz offers a nice driving experience with a calm and quiet interior.
Honda Jazz is an outclass hatchback with good and strong features with good exterior and interior
If we give a careful eye to Honda Jazz then we feel that its look is very impressive one with dashing body structure and sleek approach. The front grille and small, curved cut front hood makes not just it's front but whole exterior amazing.
Two deep creases are impressive and play a vital role in its pick and speed by giving the extra aerodynamic view from the front. Steel ribbon on front grille with Honda emblem in the centre gives prominent look.
Big front lamps are also good in look and style. Interior is very impressive of Honda Jazz hatchback. Interior of Honda Jazz is very spacious from inside and very practical as well. Honda never compromises on quality and standard, that is why its dashboard shows some quality features with an impressive material.
Lots of switches and controls are fixed in front of driver and doors inside as well. Steering is also a good high position with different controls. The infotainment system is good in style and working approach.
Honda Jazz is nothing less than a perfect vehicle
Whatever a small family wants in their car, Honda Jazz already has it. Honda Jazz hatchback has automatic headlights with wipers, eclectically adjustable mirrors, Bluetooth connectivity, AUX and USB input, CD player with DAB radio.
Adaptive cruise control with sped limiter, traction control, air conditioning unit, heated seats and mirrors, electric windows, parking sensors, standard airbags for driver and occupants, folding rear seats, ISOFIX children seat anchor points, Sat Nav, climate control, steering wheel rake and reach adjustment and front fog lights.
Honda is known for its quality, and reliability throughout the world and as being a trustworthy auto manufacturer, your safety always comes first. Euro NCAP has given it now five out of five stars. So be safe and happy while driving Honda Jazz.