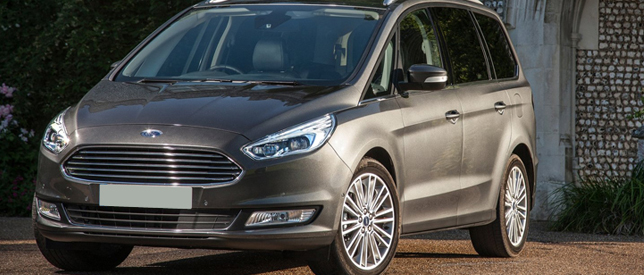 12

Feb

18
Practicality, reliability, safety and durability is great
Ford Galaxy is a classic MPV with great performance and practicality
Ford Galaxy is a good example of an all-rounder. It is the most wanted vehicle for a family frequently travels on motorways, it is desired by people carrier transporter and it is famous for its loading capacity and practicality.
There are good name in its rivalry overall such as SEAT Alhambra, VW Sharan, Citroen Grand C4 Picasso, Sang Yong Turismo, Mercedes Benz V Class and Nissan X-trail but Ford Galaxy has its own firm place on UK roads and hearts of the UK public as well.
It is an impressive vehicle manufactured by the house of Ford. Its practicality and durability is out of question. Ford Galaxy is a well-balanced vehicle with comfortable interior. It offers seven seat arrangements with good space for legs and heads for its passenger. Its roomy cabin is cleverly designed to get maximum output from it.
Good petrol and diesel engines are there to support it
There are two main engines; 1.5-litre and 2.0-litre petrol and diesel engines respectively with different versions and outputs. For an MPV, powerful diesel engine is a good choice. 2.0-litre diesel engine with 207bhp and 330lb/ft torque is good and reasonable for a seven seater MPV.
It takes 8.6 seconds to reach from 0-62m/h along with 135m/h top speed. Its fuel average is 50m/g. It is fitted with six speed automatic gearbox with front wheel drive unit as standard. It offers great performance overall.
Exterior and interior is knitted impressively
Ford is a name in automobile industry. Its products are great in performance and outstanding in their shapes and personality. Ford Galaxy has good and reasonable exterior and nice interior. It is big in size than many other MPVs available in the market due to its long wheel based body structure.
Its exterior and interior is elegant with powerful practical note. Front grille is as usual of Ford's style. Front hood lid is short to give maximum place to the cabin. Sliding front wind screen is good with gradually up tone. Roof is flat.
Sides are plain with two deep grooves on it. Tail is simple and impressive. Interior is good and smooth. Built standard is outstanding. Sitting arrangement is impressive.  Cabin is quite handy with good practical approach. Reasonable exterior and roomy interior makes it an outstanding item in MPVs.
General features are as per Ford's Standard
Ford Galaxy's general features are great. It has anti-locking breaking system with active City stop autonomous braking system. Front and rear cameras assist parking sensors, electric rear tailgate, heated seats and steering wheel, eighteen-inch alloy wheel, self-leveling rear suspensions are there to give you comfortable ride, LED headlamps, adaptive cruise control with stability control, traction control, USB, AUX and Bluetooth connectivity, standard safety air bags with side curtains for all passengers.
Remote and central locking, air conditioning unit, sports seats, PAS, different types of warning alerts and indicators, sat nav and steering wheel rake and reach adjustment is there as well to give you fine control when MPV is fully loaded. Safety kits are as per MPVs standard and it has secured five stars from Euro NCAP crash test.