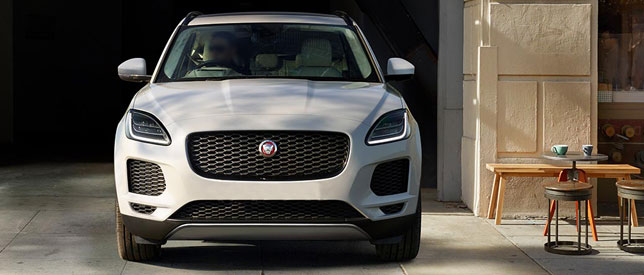 28

Sep

17
Its features are great and of extraordinary quality
Latest Jaguar E-Pace small SUV is a good addition in Pace family
Pace family of Jaguar is world renowned for its performance, elegant style and sleek outlook along with its extraordinary features and comfort. Latest Jaguar E-Pace is a small SUV in size but excellent in performance and efficiency. It is well built, stylish SUV that surpasses its competent rivals with extraordinary appearance such as Audi Q5, Range Rover Evoque, BMW X3 and Mercedes-Benz GLC.
These names are world's popular in the excellent exterior, interior, facilities, and equipment are the used but this latest Jaguar E-Pace has challenged all these models openly and head and shoulders above in all sectors from all of them. Its features are remarkable with great practicality as well.
Engine range is not very big but impressive
There is a 2.0-litre petrol engine that is capable of 295bhp and 295lb/ft torque. it is the fastest one in the whole range. It takes 5.9 seconds to reach from 00-62m/h along with the top speed of 150m/h. fuel consumption is just reasonable with 35m/g along with 181g/km of CO2 emissions. It is fitted with nine-speed automatic gearshift with Four- wheel drive system.
Like F-Pace 2.0-litre diesel engine, in diesel, there is a 2.0-lire with 177bhp and 317lb/f torque. It is impressive in performance. it takes 9.3 seconds to reach from 0-62m/h along with the top speed of 130m/h. its fuel consumption Is very low with 55m/g and CO2 emissions are 137g/km. it is coupled with a six-speed manual gearbox and four-wheel drive unit as standard. There is no automatic transmission available in diesel version.
Its driving is awesome with good quality of the interior and bombastic engines. It is a safe car with plenty of useful kits to protect the customer in an accident.
Interior is the most luxurious of its class
Jaguar is world famous for its style and uniqueness. Jaguar E-Pace has a delicate, sophisticated and elegant interior. Its exterior has a splendid and sleek look and the outer appearance is also awesome and luxurious.
Its well-balanced body structure with wide and broad front grille, high steering position, good clearance from the bottom along with beautiful tail and dipping roof is good to see.
With outstanding glass panoramic roof its interior is very light and airy. Interior is fully packed with graceful equipment. Hip-hugging seats, delicate dashboard and lots of useful features have made it a unique vehicle.
Its features are enormous and excellent with practical approach
Jaguar is one of the finest automakers in the field of automobiles. It has always tried to stand different from others. Its vehicles are different from others in each and every sense, especially in features Jaguar is far ahead of other outstanding automakers of the day. There are plenty of useful kits to give excellent environment inside and offers great control on the vehicle.
Adaptive cruise control, parking sensors with front and rear view cameras, automatic emergency brakes, traction control system, excellent hydraulic suspensions, electronically controlled, keyless entry, remote locking, central locking, pedestrian collision avoid system, hill start system, Sat Nav, Dual-zone climate control and infotainment system. ISOFIX children seat anchor points, AWD system and much more are in it.