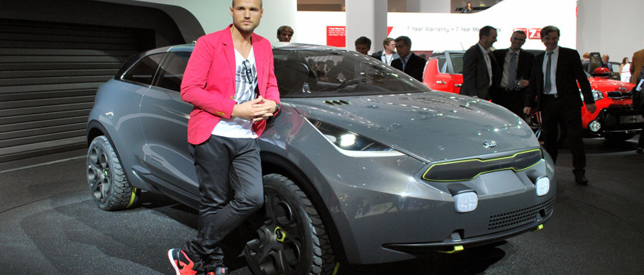 18

Nov

15
Kia has introduced the hybrid crossover small SUV, best described as "Hybrid Utility Vehicle"
Kia named it Niro at the Frankfurt Motor Show 2013 when the company debuted its first hybrid-crossover. The Niro is the first small SUV with the hybrid powertrain and petrol engine.
Kia has high hopes with its stunning, stylish and striking hybrid crossover and the company promises to beat all time successful Toyota's Prius. The Niro could be the wonderful alternate to Toyota Prius because of its state of the art features and impressive engine technology.
Hybrid Powertrain Platform
Kia has used all new hybrid powertrain platform to build Niro and the company has devoted this new platform entirely for the hybrid-crossover.
Kia plans to bring plug-in hybrid cars for future by using this new platform. Kia has named its hybrid crossover "Niro".
Hybrid Utility Vehicle (HUV)
The all new hybrid-crossover, defined as hybrid utility vehicle, "Niro" has 1.6-litre petrol engine which has a power output of 104bhp, and it produces a torque of 147Nm. In regards to the hybrid capability, Kia has installed 1.56 kWh lithium-polymer battery and 32kw motor to give additional power to wheels.
It has six-speed double-clutch auto box which is quite impressive. Kia has maintained its petrol characteristics on top of hybrid capability. The Niro smoothly shifts between petrol and hybrid modes and petrol sound can be easily heard on the motorway.
The Niro will return 60mpg of fuel economy whereas the CO2 emission figure will be less than 90g/km which makes it an eco-friendly car.
Luxury and Tech Features
Kia has installed sophisticated luxury and tech features in its Niro. The large touch-screen has been installed and the other tech features include, wireless phone charging facility and Auto Smartphone compatibility.
Although it is not a premium car but Kia has incorporated some luxury features in its Niro such as heated steering wheel, heated and cooling seats. The Niro also has reliable safety features like adaptive cruise control, emergency braking, seven airbags and blind sport monitoring.
The Niro will be available for sale in the UK by 2016 at the price of £ 25,000.