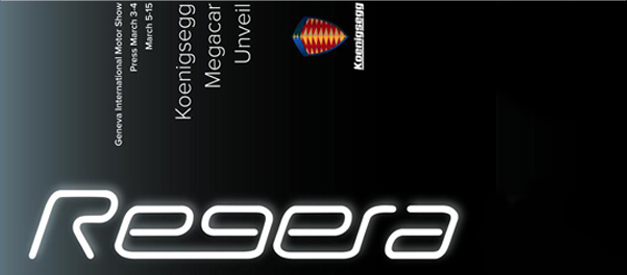 11

Feb

15
The Swedish supercar manufacturer Koenigsegg is determined and aggressive and set to dominate the Geneva Motor Show
With the Swedish meaning of to 'rule, reign or govern', the new "Regera" from Swedish supercar manufacturer Koenigsegg is so potent and wild to be placed at the top of its range as new flagship. For the time being, the most powerful and current flagship is the KoenigseggOne:1 and Regera would be even more powerful than that.
Koenigsegg One:1 was revealed at the Geneva motor show last year and has been named One:1 because its 5.0-litre twin-turbocharged V8 engine produces 1340PS (1322bhp) and co-incidentally, weighs 1340kg. With all this monstrous power under the hood, One:1 claims a top speed of 273mph.
The enhancements to the aerodynamics have improved the downforce figure over KoenigseggOne:1's 610kg, which is the same as McLaren P1. This is 71bhp more than the standard edition of the LaFerrari, the hardcore track-only Ferrari FXX K with 1021bhp was revealed at the end of the last year. The McLaren P1GTR with 981bhp will also make its debut at Geneva motor show next month. Koenigsegg is ready to dominate the show with Regera and Agera RS, two of the world's most powerful hypercars in the world.
The latest news on Regera comes just days after the news that Koenigsegg will be hitting the floor at Geneva motor show with its Agera RS which is a lighter yet more powerful version of the Koenigsegg Agera R. Watch out Ferrari and Mclaren.
Which one will you go for Ferrari La Ferrari, McLaren or Koenigsegg?