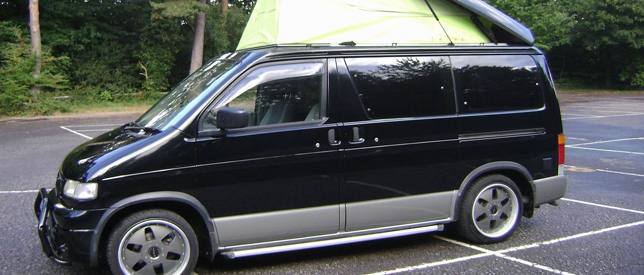 23

Jan

17
Always get Positive Remarks from Experts
A multipurpose van that has great comfort for riders and fuel economy for the owners is one of the most popular options for camping point of view as interior is versatile and loaded with modern technology features. In this way it serves people in many ways and proved good return of their money spent.
Issues with the Older Model
Issue of plugs has been quite disturbing and common as well that certainly hampers while making a selection of this overall great vehicle. Automatic transmission is also not that smooth as it should have been so the result is not up to the expectations of manufacturer.
Even having small shortcomings it has got high ratings from all experts of automobiles and that helps Mazda Bongo to gain more in sales of units of this particular product of the factory. Interior is graciously roomy and has enough space for eight passengers but the size is smart to find space easily in parking. Being a Japanese brand quality of every feature is of high standards and you would not experience compromise on excellence.
Many uses of vehicle
There is possibility of taking it to a picnic as it can accommodate 4 sleeping adults and 2 children at the same time while carrying two bikes in at as well. So there is good space for kits that you need for camping or for going on a picnic. Since first release it was known a Luxurious Multipurpose Van.
Not being converted from van to MPV that is why the Bongo has great features to satisfy buyers. The other important aspect is comfort for riders. Coiled suspension guarantees keeping bumps out of the van and disc brakes allow good handling of vehicle on road.
By pushing harder on sharp turns you would not feel any sort of issue about keeping it in control. You can easily use it as a car in routine as it would not let you down while doing so. The other usage is definitely plus for the buyers. Go for camping or stay overnight on picnic during holidays is quite feasible due to features of this utility automobile.
Conventional Diesel Engine Performance is good
Mazda Bongo has 2.5-litre Diesel engine that is powerful enough to keep it moving smoothly on routes that may resist more than asphalt tracks. Four-speed transmissions are automatic and available in all vans of Bongo. Performance of this machine is quite impressive and feedback from owners all around the globe proves this point.
The conventional engine is efficient to match hopes of person driving it. Seat for driver is well placed so that every sized person finds it as if it has been built for him or her. No problem in viewing as vision remains perfect.
Range of engines is wide and people can select other than diesel engines to enjoy driving this exquisitely spacious vehicle. The similar possibilities are there for converting it in a camper as both exterior and interior are not static so a good variety is there for owners.