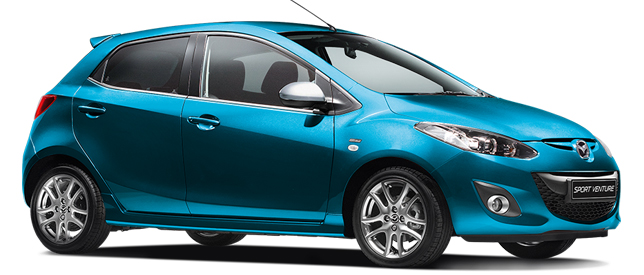 3

Mar

15
Mazda2 keeps the same KODO design but has larger capacity engines for UK launch
The third generation of Mazda2 is the most stylish and unique hatchback that Japanese automaker offers in the UK markets.
It is likely to rival Ford Fiesta, Renault Clio, Skoda Fabia and Vauxhall Corsa type of small hatches in the UK. Volkswagen Polo will also be in the list of strong contenders and it is clear that Mazda2 will face very strong competition in the market.
These day's automakers are downsizing petrol engines by reducing their capacity. Mazda is not yet practicing this capacity reduction technique. They have added a 1.5 litre 104bhp diesel engine which has turbocharged propulsion.
All other engines offered in the Mazda2 range are naturally aspirated. Mazda2 is being offered in three engine power variants from 74bhp to 113bhp. Turbocharger is only offered with 1.5 litre diesel engines that ensure the ultimate power delivery with utmost performance and fuel economy.
It offers 104bhp and a torque of 220Nm from only 3,200rpm. A six-speed manual transmission is fitted to reach the Mazda2 at 111mph top speed. It takes 10.1 seconds to reach 0-62 miles per hours. Lower powered petrol engines are paired with the five-speed transmissions as standard.
Fuel economy is very good when it comes to turbocharged propulsion. Mazda2 gives 83.1mpg on average with carbon emissions of under 100g/km thanks to all-new SkyActiv technology. This technology boosts the engine efficiency and reduces the weight of the unit.