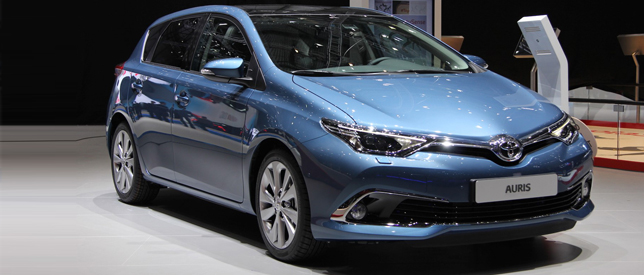 12

Mar

15
The new Toyota Auris has been revealed at Geneva Motor Show 2015
The refreshed and refined Toyota Auris has been revealed with updated Auris engine line-up. It previews a mid-life facelift in a set of official pictures at its public debut at Geneva Motor Show.
The Auris is the latest Toyota which is experiencing a thorough refresh after the Avensis (Avensis also makes its public appearance at the show). Auris gets a casual refresh and restyle if we compare it with the new Avensis, but the front end has received a significant update with lower bumper, reshaped headlights and new styled grille.
Toyota has revealed the Auris with the rear end is almost unchanged. However, the tail lights get a slight restyling. The interior of the car has a new look with some new tweaks.
New Auris offers some new safety features along with new and improved engine line-up for better fuel economy and controlled carbon emissions. Toyota has revealed that this may include the 1.6 litre BMW engine, that will lead the Auris line up. These engines are already used in Toyota Verso and expected to go into the Avensis series.
Hybrid powertrain accounts for almost half of the sales from Europe, that is why, Toyota is willing to keep it going in the future. Both versions, hatchback and the estate will get a facelift and the new Auris will go on sale this year after its debut at the Geneva Motor Show 2015.