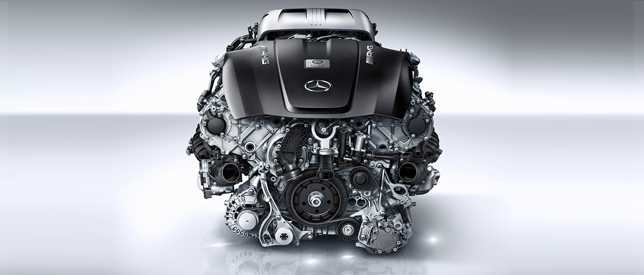 13

Jun

14
Mercedes has publicized full details on the newly made 4.0-litre Bi-Turbo V8 engine that will power the upcoming Mercedes AMG GT. With Mercedes fuel efficiency is king, even powerhouse AMG can't break away from the current downsizing trend. But there are lots to get excited about the new 4.0-litre BiTurbo as it develops more power and more torque than the outgoing 5.5-litre twin-turbo V8 and naturally aspirated 6.3-litre V8.
The rounded AMG GT will use similar proportions to the SLS AMG, but get ready at a much lower price point of around £120,000 when it arrives in showrooms towards the end of 2014. Performance shouldn't be too far off the SLS though, with the V8 producing an astounding 503bhp and 650Nm of torque, without any electronic or synthetic enhancement to the exhaust note.
What we do know is that the same engine will power the upcoming C63 AMG saloon and estate, due in 2015. The smaller capacity engine and addition of two turbochargers radically boosts efficiency, but while AMG is holding full technical specs. Expect above 28mpg which 6.6mpg over the SLS AMG.
One of the biggest challenges concerning a turbocharged engine is cooling. The 'hot V' arrangement, as the turbo positioning is called, helps, but AMG has also fitted a trick bonnet that blows out hot air to improve cooling when the car is travelling at low speeds.