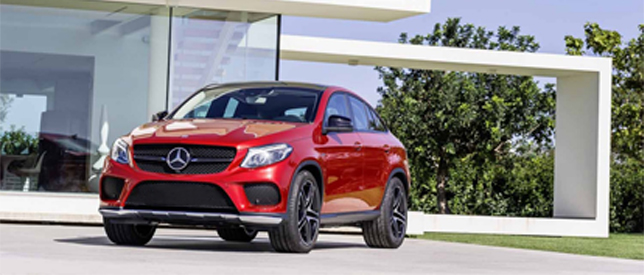 15

Dec

14
Starting from £53k, the GLE Coupe will compete against BMW X6
The new Mercedes GLE Coupe is being launched next year, but surprisingly it has been revealed ahead of its official unveiling. This beauty has all the necessary ingredients to give BMW X6 some real tough time. Mercedes' programme director of SUV and SUCs, Axel Heix said that the basic idea behind this marvel is to combine the best of both worlds, so you could enjoy all the benefits of an SUV in proportion and body style of a car.
The new GLE Coupe shares the same platform as the standard GLE and a new version of M-Class is also being launched next year. The rumours are that the body will not be that different from the previous models. You would definitely love the work done on exterior like the steeply raked windscreen which gives it more aerodynamic look, the unique front doors, roofline sloppy enough to complement the features and above all that the sharper bumper designs that fit in so perfectly with the rest of the enhancements.
In the beginning, Mercedes is going to offer a range of six cylinder petrol and diesel engines for GLE Coupe which will consist of 350d diesel with 255 bhp, a 400 petrol with 329 bhp and a 450 AMG with 362 bhp. Some rumours have it that Mercedes will introduce a 5.5 litre V8 AMG GLE Coupe 63 in the near future, but we still have to wait and see.
It has a spacious 670 litres boot which is, quite frankly, a lot bigger than X6's 580 litres or even bigger than X5's 650 litre with back seats folded. According to Heix, Mercedes doesn't have any plans of making a seven seat GLE yet. It is assumed that the 350dGLE would be priced around £50,000 while the current M-Class price starts from £48,190.