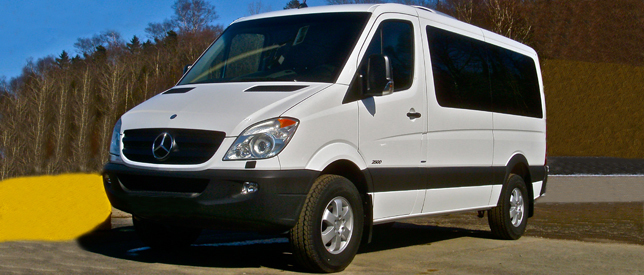 25

Aug

21
Long wheelbase passenger carrier has five rows of seats and thus can take 15 passengers
Mercedes Sprinter is a big van with many good attributes for passengers and also for its real job of carrying loads. It has been the best in class for its modern-day cabin features and doing the commercial job. It is a high roof full-size van so good capacity of load carrying.
Two different roof heights let you choose as per job requirements. The load area floor is low for easy loading. Mercedes has been producing big-size vans for a long time so practicality can be seen in the design of Sprinter. It is tall enough to allow more than six feet tall person to easily walk in the load area.
It is a strongly built van and replacement Mercedes Sprinter engine for sale let you change the power unit and keep it in use. The largest of Sprinter vans offer as much as 547 cubic feet of load capacity and you can take bigger and heavier stuff. Long wheelbase passenger carrier has five rows of seats and thus can take 15 passengers to their destination.
From a full-size van, you can expect this kind of space for people and goods. Mercedes has worked upon the chassis of Sprinter so it is agile. You will find it easy to drive on busy roads and feel Sprinter more like a car. We all know it is a big vehicle but in urban traffic, it adjusts due to the manoeuvring ability of the van. It is not truck-like though it works more like a truck.
This van has been designed for urban and peripheral areas
Turbo diesel V6 unit of the van returns good fuel economy and good pulling muscle for a van of this size. Unlike big V8 engines in American vans, this engine has the guts to inspire. This van has been designed for urban and peripheral areas rather than to regularly cruise on the highway.
This is why its chassis has been made sharp. 3.0-litre reconditioned Mercedes Sprinter engines are good as a replacement unit for any large size van. This van is available in three body designs cargo, crew and passenger. The Cargo van offers only one seat other than the driver in the front cabin. The crew van has two rows of seats and a rear load bay so you will have seats for five in this body style of Sprinter.
The passenger van has a maximum capacity of carrying 15 passengers and it is similar to a minibus. In a smaller passenger van, there are four rows of seats and you can carry 12 passengers on them. These seats are comfortable and offer good support for travelling long distances. All models of Sprinter come in two wheelbases so you can choose a standard or long wheelbase.
Mercedes Sprinter standard wheelbase is 144 inches long and the long-wheelbase sprinter is 170 inches long. The difference is significant so you will get more space in long-wheelbase models. Standard features include sixteen inches wheels, air conditioning and tilt-telescoping steering. Cargo vans have a wooden floor of the cargo bay and 270 degree opening rear doors.
Radio with two speakers is also standard in all Sprinter vans. For driver assistance stability control and traction control have been made standard whereas front airbags are also present in all models. For a big vehicle, these features are quite important and Sprinter rightly has made them available throughout Sprinter models.
These will make parking easier
Driver-side sliding door is optional though it should have been standard for delivery ease. There are many other optional features present for owners to enhance the practicality and convenience of new Sprinter vans. Parking sensors and rear-view camera again must for a full-size van and you have to pay for these aides.
These will make parking easier and the driver will have an excellent rear-view. Front cabin seats can be improved and you can also add a heating and air conditioning facility for passengers at rear seats. Fixed sunroof and roof rack mounted rails are also available to the buyers of cargo and crew vans.
Different optional features are offered to buyers of different vans so that these vans can cater needs of buyers in a better way. All these vans have turbo diesel 3.0-litre units. It is capable of 188 hp and torque of 325 lb-ft. this V6 power unit is a capable load puller.
Mercedes has brought in changes
Rear wheels-driven vans have got five-speed auto transmissions so you can focus more on-road than on playing with the gear lever. The build quality of this van has been very good and you also find its interior modern than rivals. The layout of the front cabin is much like an SUV than a commercial van so not only chassis give you a better driving experience but also the cabin of the van lets you feel better.
Mercedes has brought in changes for Sprinter vans to set standards for competitors in the full-size van segment. The price of the van is not low so you have to spend lots of money to own this splendid van by Mercedes. It has been purely built to offer you adequate power and generous capacity to do different commercial tasks. You can have optional four wheels drive configuration for better traction.