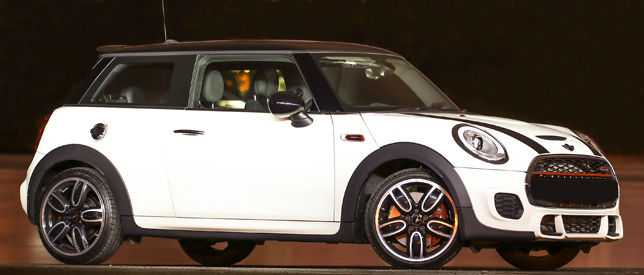 31

Dec

20
A large number of accessories are there to make every Cooper distinctive from others
Flat roof, big rounded front lights and wide grille of new Mini Cooper are quite appealing for buyers. You can personalize this car with additions from list of optional exterior features. Full range of exterior trims can be viewed online so that selection becomes easier.
Different models of Cooper can be designed with badges, grille, front and rear lights, wipers and other body parts. You can upgrade you Mini or replace exterior parts with features of your choice. A large number of accessories are there to make every Cooper distinctive from others.
Guidelines and instruction for installation of these articles are also available. You can view how your car would appear after these changes as sellers of accessories display Minis with different accessories. Mini second hand engines are quite strong units so you can rely on their pulling ability.
It will save your money and you let you keep running old car. Mini Cooper complete engines and parts are offered by different sellers in the UK and elsewhere, these sellers known for their repute which is earned through quality stuff. Fitting services are also offered by the same but not necessary. New Cooper has twin power turbo unit with direct fuel injection.
Double VANOS second generation adjusts intake and exhaust timing through camshaft. For this continuously variable adjustment is used which functions according to acceleration and throttle opening. The improved result from power machine is definitely liked and BMW class inside the car is quite visible. Many small car buyers desire to put hands on this splendid car.
Electric Hardtop Mini is an all-electric
Mini Cooper 3-cylinder engine produces 134hp and torque of 162 lb-ft at 1250 revolutions per minute. These figures let the car reach 60mph speed from zero in fraction above than seven seconds. For any small car reconditioned Mini Cooper engines can be opted.
Electric Hardtop Mini is an all-electric model of the car which is powered to keep driving thrill intact. Premium standard features include Apple car-play, driving assistance and heated seats. It is a two-door model but you can get to second row by leaning front seat.
After full charging, it can take you 110 miles far so it is very practical. Quick charging takes 36 minutes to charge up to eighty per cent and there are more than nineteen thousand charging points. With 181hp the takes less than seven seconds to reach speed mark of 60mph.
Zero carbon emission is really great in environment conscious world. With one single charge, it can easily cover daily distances and even a weekend trip. You need not to make compromises for this all-electric vehicle as the car has all the good specs which other models offer.
With quick charging possibility, you can keep it running without much delay. The number of charging stations is increasing so as you shop inside your car gets energy through your car's own charging cable.
Fast DC charging is the fastest means for this purpose and with up to 50KW connection your car gets charged in minutes. This SE model has many other benefits too which include fuel saving and other incentives from the state.
Android Auto has not been made part
Mini Cooper S convertible is the altogether different driving experience. Small but thrilling and to enjoy summer spree there are very few matching this convertible. Seats, settings and tech feature all are combined to offer you splendid ride. Mini Cooper supply and fitting service UK is to install different Mini engines in your cars.
Nothing could be more satisfying than finding all the required stuff and services from the same source. Android Auto has not been made part of interior tech so only iPhone users will enjoy connectivity while on move. Boot space is not generous so you cannot carry much of the stuff.
In the UK purchasing this kind of car is not simple as rainy days and overcast conditions are frequent. Despite this fact selling of convertibles in the UK is not disappointing as compared to some other European countries with higher temperature.
In the warmth of Spain travelling without a roof is harsher so in UK use of convertible is more convenient. Most of this kind of vehicle is quite stylish and with optional stuff, you can increase the appeal of cars.
Open air driving in itself a charm
Seats are for four and for extra space you can have other options. Mini keeps its character in all models so whatever variant you select you to enjoy driving and ride. Cooper S convertible has twin exhaust pipes which attract your attention. Open air driving in itself a charm and to experience this you have to compromise some features of simple cars.
The engine of this convertible has a capacity of 192hp and responsive steering let drive at a good speed on tight corners. Body leaning is least so on bends you remain confident for road grip. Comfort is also achieved so rough surfaces do not unsettle riders much. Double clutch functions smoothly so auto speed transmissions shift from one to other after reaching right speed. Driving a Mini is always a thrill since its first launch so if you afford this small car, you must own it once.