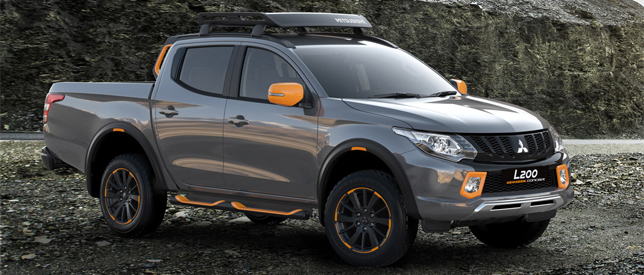 11

Nov

16
Nicely Built Pick Up with a Great Look to Allow Multi Usage
The fifth generation Mitsubishi L200 pickup truck has a long history and good repute. That is why when new version was about to launch anticipations were at their peak and by having good look on details you remain quite satisfied. By shrinking the new model can be defined as technologically advanced engine with promised fuel economy and wide range of new specifications for better experience of riding and driving.
It is improved by all means to meet demands of customers of the manufacturer. Single cabin, double cabin and extended cabins are there to suit your purpose of purchase. In accordance to utility and choice one can easily select the most appropriate one. Trim of exterior of the truck provides it a grand warrior image or one can say rather barbarian look so appeal is even greater. Standard specifications are too good that outdo many most of competitors of same category.
 Engines for all New Models of same Efficiency
There is no variation in engine features as all have same 2.4 litre MIVEC diesel engine to run it. Speed transmission variation is there so you can opt for six-speed manual transmissions or five-speed auto gearbox with paddle shift.
The same engine has two different ratings as one offers 178bhp and economy of 44.1mpg the other has 151hp and fuel efficiency of 40.9mpg. A switchable four by four drive system is also there with good safety measures like seven airbags. The engine is modern to produce more power without being costly to your pocket even after having it in your garage.
The weight carrying capacity is over one ton and exactly 3100kg in single cabin model. Space is also enough to transport that much load on this superb truck. All these features set quite elevated standards for other pick up options. The challenge it posses for others is an uphill task due to very fine combination of specifications that aspired of.
 Off Road Vehicle
Apart from the weight carrying ability, the pickup is good for business people for their off Road touring due to nature of trade. Comfort levels are higher than usual expectations from such automobiles.
Every attempt has been made to keep riders away from tiresome feeling. The Style is also there to make a striking note while visiting a place. So it serves multi purposes of the owner very efficiently. Durability has also been a concern for the designers of the vehicle so very little repair work will be required in any case.
That shows Mitsubishi confidence as it offers a warranty of five long years and a cover for anti-corrosion up to twelve years.
 Good Choice at the Right Price for a multipurpose use
While thinking about the new model of any vehicle price always remain the prime concern but when buyers come across newly designed and well-equipped road traveling machine cost becomes secondary. Similar is the case with new pick up of the company a lot is improved or upgraded to keep pace with the rivals in the market.