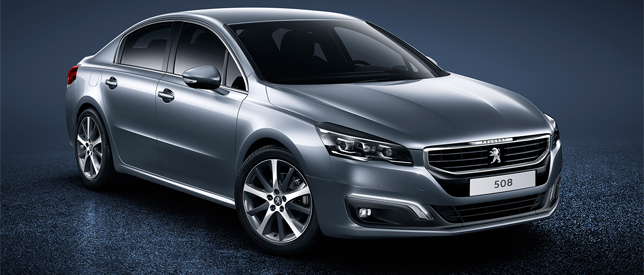 19

Jun

14
The facelifted Peugeot 508 now features a new engine
Peugeot has revealed full details on its facelifted 508 which will rival Ford Mondeo. It includes new technology and a fresh design.  Its frugal 2.0 litre 148bhp engine emits just 105g/km. Its diesel electric HYbrid4 model has also made a comeback and now gives 85.6mpg and 85g/km, the best in its class.
The new design of the 508 is inspired by some of the most recent concepts from Peugeot, like the Exalt, which featured at the Beijing Motor Show earlier in 2014. There is a set of new taillights for the saloon. This last version is only available with the HYbrid4 powertrain.
The interior has been made easy so that many of the functions are now controlled through a centrally mounted seven-inch touchscreen. New options like blind spot sensors and a reversing camera are available, as are a range of Peugeot Connect apps providing info on things like free parking spaces, fuel prices and traffic.
Underneath the hood, is the introduction of the 150bhp 2.0-litre BlueHDi diesel, which boasts emissions of 105g/km. That's 10g/km less than the old 1.6-litre e-HDi engine, which only had 112bhp. There's also a 180bhp version of the 2.0 BlueHDi and a 165bhp 1.6-litre THP turbo. The latter unit now boasts emissions of 131g/km, compared with 144g/km in the old car. Its mated to a 6-speed gearbox.
Improvements to the HYbrid4 model means this four-wheel-drive diesel-electric version has now CO2 emissions of just 85g/km down from 95g/km. The updated Peugeot 508 will go on sale from September 10 and should be priced from around £20,000.