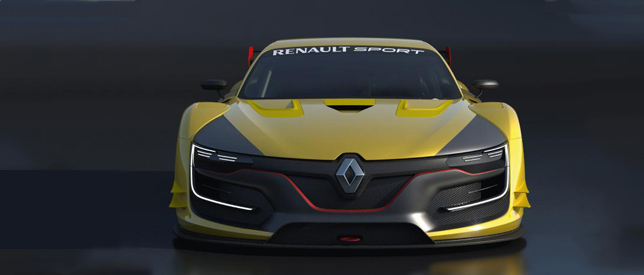 29

Aug

14
The all new Renault Sport Trophy borrows power from Nissan GT-R twin turbo engine
Finally! Renault has pulled the wraps off the new Sport RS 01 at the Moscow International Automobile Salon 2014 and it is officially announced by the automaker that new racing car is ready to race in the World Series by Renault from next year. It is open for sale in UK and price starts from £282,000.
The all new Sport RS 01 is powered by a 3.8-litre twin-turbo V6 engine which has been acquired from the famous Nissan GT-R. The peak power from this engine is claimed to be more than 490bhp and the twisting power is 443lb-ft, but the Nissan GT-R is re-tweaked for 2015 to produce more than 540bhp of power and  465lb-ft of torque.
A new dry sump system has been introduced in this Renault Engine to eliminate the oil surges while crossing the long corners on race tracks. Seven-speed sequential transmission is longitudinally mounted to drive the rear wheels. This transmission is driver friendly and easy to control via steering wheel mounted paddles.
Renault has not revealed any details about top speed and timing from 0-62 miles per hour but they have hinted that the RS 01 will be similar to GT3 and DTM racers in terms of performance. There have been several other modifications made to improve performance, such as adjustable dampers and a limited-slip differential. Suspension is also updated with double wishbone system at both front and rear ends. Renault's chief designer Laurens Van Den Acker speaks at the floor about new model, "We wanted the car to be an extreme interpretation of Renault's sporting attitudes. It is a car that sums up all of Renault's expertise in motorsport."
The all new Renault Sport RS 01 is open for sale and officials claim that several racing figures are showing deep interest in Renault RS 01.