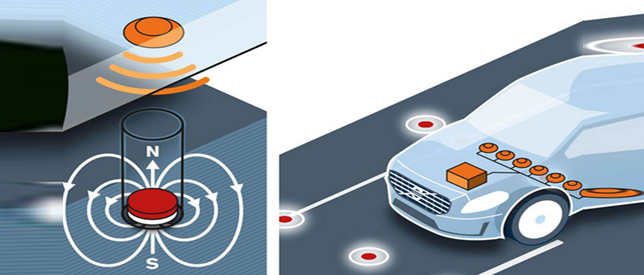 26

Mar

14
On Road Magnets Will Keep Self-Driving Cars On Track – Volvo's New Experiment
Many of you who have played with self-driving cars in childhood may remember that those cars used pin beneath their chassis to guide them, which eventually fit into the slot on each lane. Engine's magnets in these cars were the only thing that held them on to the track. This concept has been brought to life in real world by Volvo; the only difference this time is the use of ferrite magnets embedded on the track and the sensors on the vehicle. These magnets will create an imperceptible but very accurate railway. The biggest benefit of using magnet is its ability to work under poor weather or worst conditions.
It will also work there where camera technologies and GPS are unable to work or prone to failure because of physical obstacles. As icy roads have always been a serious problem for the drivers, Volvo's road safety applications are helping them to avoid accidents by keeping them in their own lane. By using magnets, road space can be used more efficiently by narrowing lanes. Volvo is testing this concept in cooperation with the Swedish Transport Administration on a track of 100-yard.The pattern of 1.5-inch by 0.5-inch magnet is detected by magnetic field sensors installed on the test vehicle.
This research program's prime objectives are to assess the detection sensitivity, durability and reliability of the technology along with the cost. The evaluation of its effect on road maintenance is also on the go. According to Volvo the test results of this technology on different speeds and conditions are very promising. They are now planning to conduct these tests in the real-life traffic scenario. Test results depict that the use of ferrite magnets is fairly cheap, reliable and efficient when it comes to on-board sensor technology and the infrastructure. Days are not far when magnets will be used for safer and autonomous driving.