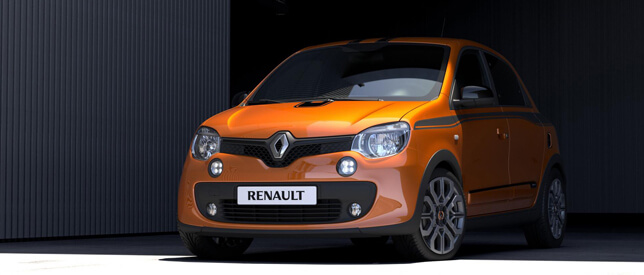 8

Jun

16
Renault reveals more power Twingo GT with extra 19bhp
Finally, Renault has revealed its new sporty look Renault Twingo GT with improved Renault Engine specs. The new and hot city car is powered with additional 19bhp and an upgraded chassis and sporty exterior. This sporty look Twingo GT will debut at the Goodwood festival of speed this year.
Smart outputs of the TCe Turbo Petrol Engine
This is not a full blown hot hatchback as some are expecting. It is equipped with the power of 0.9-litre TCe turbo petrol engine which has been raised from 89bhp to 108bhp, whereas the torque is geared to 170Nm from 135Nm. These figures are lower to some extent in the Abarth 595.
Talking about the similarity rival, it is the same powertrain nearly identical to Smart ForFour Brabus, with the figures of 0-62mph in 10.5 seconds and has the top speed of 112mph, 9mph more than the standard variant. The Twingo GT only has a six-speed manual gearbox.
Renault has improved the Twingo's suspension setup to upgrade the handling where it gains a specific ESP calibration, which is a good sign for Renault lovers and buyers. However, the variable steering ratio is as same as standard turbo Twingo. The Renault Manufacturers are claiming that the Twingo GT has outstanding road holding.
Sporty Exterior Looks
The exterior of Renault Twingo GT is superb with eye-catching body cuts. Its sporty look includes new 17-inch alloy wheels with the combination of lowered ride height and chunkier air intakes to boost its appeal. The new aircraft-inspired features are on the sides, bonnet and roof of the Twingo GT with Renault-sport badging. There are four colours are available including the distinctive Lunar Orange. A twin exhaust tailpipe also featuring good way.
The new aluminium gear lever is added inside whereas the rest of the cabin gets orange detailing. The price for the Renault Twingo GT is still not confirmed, but the expectations are assuming that it will fall near £15,000. Until then, we have to wait to try it out.