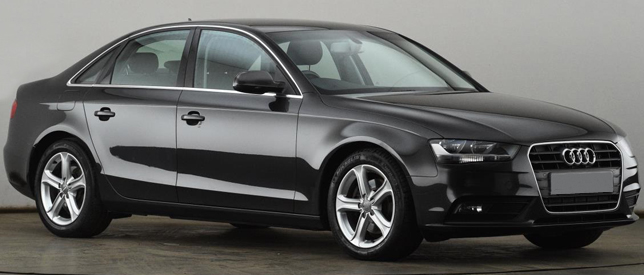 22

Mar

22
The saloon has been the top choice of the segment and Audi kept it among the best by including modern innovative tech in the car
Audi produces superb luxury cars and the A4 is a really good one with a balance of performance and comfort. This compact sports saloon has a spacious cabin and an array of upscale features. Few creases on the bonnet and sides of the car to make it look sharper with very smart but powerful front lights.
The grill is broad with four circles of Audi. The saloon has been the top choice of the segment and Audi kept it among the best by including modern innovative tech to the car. The other two German rivals to the car are BMW 3 series and Mercedes C class also offer advanced specifications. Thus, competition remains tough among the three sports saloons.
The combination of luxury comfort and sporty performance is considered the most appealing aspect. Chassis has been built to ensure sharp handling on twisting roads. With continuous alterations and changes to A4, Audi has kept it fresh for buyers. Under the bonnet engines also get some tweaks and infotainment system has also been improved. Audi offers both diesel and petrol units for A4 so they can easily find an adequate power unit for this saloon.
Now a day it is easy to find replacement Audi A4 engines for sale. The fuel efficiency of these engines has been made better to reduce carbon emissions and protect the environment. Intelligent fuel using machines reduce running costs too. Audi A4 Avant and Audi S4 are also offered to have more space and high performance respectively. Audi offers a range of models and you can choose from eight trims to get the most suitable. When it comes to engines you can choose from 5 options.
The more powerful 40 TDI unit offers 201 bhp
The fuel average of these units ranges from 40 mpg to 59 mpg. Nine different exterior paint options are also alluring for young buyers of the plush saloon. The warranty from Audi lasts for either three years or 60,000 miles. The cost of maintenance is low to keep expenses running affordably. Some power units are better than others, so experts recommend a 35 TDI engine to buyers.
This diesel engine is capable of 161bhp and has the punch to appeal to buyers, who love quick acceleration. With 35 TDI units, the Audi A4 reaches the 62mph speed mark from 0 in just 8.2 seconds. With more powerful 40 TDI units offering 201 bhp, performance increases on both A-class and B-class roads.
Petrol engine options include 35 TFSI and 40 TFSI units. The latter one is a better choice as it produces 201bhp in comparison to the 148bhp of the earlier. The more powerful petrol engine reaches the top speed mark of 62mph in 7.1 seconds. It reveals that the petrol engine is quick to accelerate. Audi A4 reconditioned engines are cheap, but these units have no faults.
These engines have been paired with seven-speed dual-clutch automatic transmissions. Audi Quattro models have an all-wheel-drive configuration to deal excellently with tough weather conditions and keep the drive safe. Latest Audi A4 has made all wheel's drive standard for all models.
Apart from the changes under the skin, buyers also notice the advanced looks of the vehicle. This model of Audi A4 has a beautiful modern exterior. Progress in technology and comfort for riders has been appreciated by buyers and more units will be sold.
Diesel engines are a bit vocal
An adaptive sport suspension is the best of the available options. The steering wheel is accurate and its weight increases with speed to make control precise. Models of the car with soft comfortable suspension have body leaning but even then, experts like it for drive and ride quality.
Refinement is another big positive of Audi A4. No vibration or engine noise intrudes in the cabin. Diesel engines are a bit more vocal than petrol engines but usual for the buyers. Road noise has been well suppressed to keep the ride quality high. The manual gearbox is paired with the engine.
It is smooth in function and gear shift seamless so people prefer it. Adjustment of the steering wheel and driver seat let you get to the right position and stay comfortable. All models of the car come with Audi Virtual Cockpit display so buyers get good value for their money.
Apart from a few changes, there are no major alterations
The fun-to-drive element has been witnessed more by rivals, but the overall very good performance of the car keeps it as one of the best compact sports saloons. Audi has made the interior plush by using fine quality materials and modern styling. For sports saloons, ride quality is also important, and the Audi A4 offers a good balance of both.
Suspension is capable of absorbing the impact of potholes and bumps. Occupants of the second row get reasonable space to travel in comfort. This year, the Black Optic package from Audi has been introduced for the A4 Saloon, and the chrome touches have been replaced by black stuff.
Sport suspension in some models makes the ride bit stiffer but adds to handling sharpness. Apart from a few changes, there are no major alterations made to the new model of the vehicle. Second hand Audi A4 engines for sale are the choice of budget buyers and they can get a good unit. Different suspensions are offered in different models, but the objective remains a comfortable ride. Wheel size also differs, and a small 17 or 18-inch wheel keeps the ride comfort level high for the riders. While dealing with road imperfections, the handling remains sharp. This balance of two opposite traits has remarkably appealed to buyers.