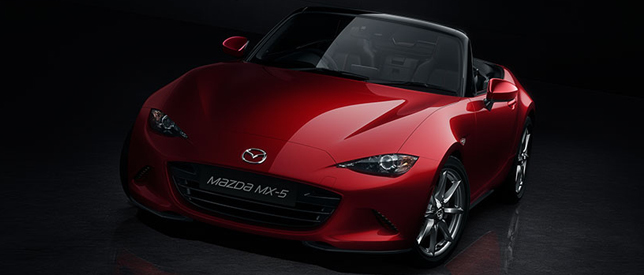 20

Jan

17
The powerful engines with efficiency and speed
The one and only small sports convertible car that provides thrill, fun to drive and usability within a cheap budget, the Mazda MX5. In its fourth-generation, Mazda MX5 is one of the best roadsters of the day. It is a lightweight two-seater small convertible that has a lot of quality features to offer. Powerful engine with good road handling and incredible agility makes this Roadster prominent in its few direct rivals.
Rivals
There is the Audi TT Roadster, BMW Z4 Roaster, Mercedes- Benz SLC and above all the Toyota GT86. All these Roadsters are head to head with Mazda MX5 in performance but MX 5 is the cheapest convertible Roadster of all.
Engine Range
The engines range is not only good in performance, but also efficient in handling the lightweight MX5. There are two petrol units being offered in the latest Mazda MX5, the 1.5-litre SkyActiv petrol and 2.0-litre SkyActiv petrol. The 130 bhp and 111lb/ft of torque, 1.5 litre petrol unit is brisk rather than outright fast, and you have to rev the engine to its high 7000rpm limiter to get the best from this small unit which is designed to suit a lightweight car like MX 5 to give it decent pace with efficient road handling.
This petrol engine is capable to manage a 0-62m/h in 8.3 seconds. This power output may sound very modest for a modern sports car, but in a model which weighs barely 1000kg, it still offers sprightly performance.
The 2.0-litre SkyActiv petrol is more refined than its predecessor. The 160bhp and 148lb/ft of torque, 2.0litre petrol engine gives better fuel economy. It has extra 30bhp and 37lb/ft over the 1.5litre petrol engine, improving the former's 8.3 second 0-62m/h sprint time by 1.0 second.
Though this petrol unit is quicker, faster and lighter but 1.5-litre petrol engine is recognized as the best match to the featherweight MX5.the six-speed SkyActiv-Mt (manual transmission) is as standard. There is an optional six-speed SkyActiv automatic gear transmission for both petrol engines.
The new Mazda MX5-RF coupe cum convertible
The latest version of Mazda MX5 is MX5-RF, considered as more advanced and refined in some extent than the MX5. It has a rigid roof and buttresses that changed the look completely. The new interior resembles the previous one.
The MX5-RF uses the same powertrain as the soft top model and offers the same performance. The new thing in MX5-RF is its Machine Grey paint. The new coupe like car is equipped with BBS alloy wheels. The new NX5-RF is available in two colours: the key colour of Mazda SOUL RED or machine Grey.
Memories of the past
BBR Mazda Mx-5 GT270 is a limited edition, modified with an intercooled turbocharger remapped ECU. Available in Sport Tech Roadster Coupe models, especially designed for racing point of view with 268bhp 2.0-litre engine with maximum speed of 150m/h and a sprint of 0-62m/h in 4.9 seconds.
Jota MX-5 GT is a limited edition with most of interior and exterior is made of carbon fiber. It is the rarest production of MX5 range. With 2.0-litre turbocharged petrol it takes 6.4 seconds to get from0-62m/h.
MX5 25th Anniversary model is a limited edition of MX5 with 2.0-litre engine, it is launched in 2014 to celebrate 25 years of the MX5.
Mazda MX5 ND is intended for United States, Spain and the Japan. The base model has a1.5 litre 129bhp petrol engine and the North American version has a 2.0-litre 155bhp petrol engine.