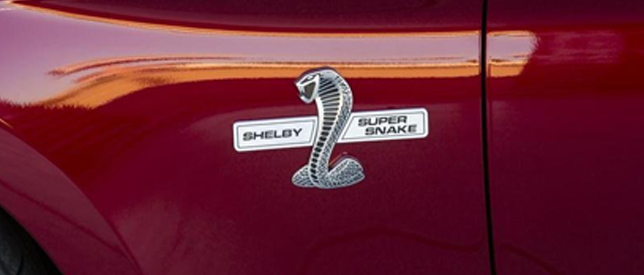 3

Jul

15
Ford Mustang is a true heart stopper, but when it gets treatment from Legendary Shelby, it becomes unbelievably, an exotic killer.
Mustang-based "Super Snake" has recently been unveiled by the legendary muscle car tuning company, Shelby, with up to 750 supercharged horses and carbon-fibre aerodynamic enhancements.
What About 750 Supercharged Horses?
The original Mustang uses a 5.0-litre V8 special Ford engine which produces 435 horsepower and 400 pound-feet of torque, so, Shelby rigged it with a Ford Performance supercharger kit, increasing the output to 627 ponies. But if you strive for more, there is another, more powerful supercharger kit, creating monstrous 750 horses. It makes awfully loud noises, thanks to Borla exhaust with Shelby tips.
For the first time, Super Snake is going to utilise either a six-speed automatic or manual transmission. Thanks to the Ford Performance suspension kit, including jounce bumper, lower springs, new sway bars, and a rear toe link kit, the handling has increased to a higher level. To stop this beast, 6-piston brakes from Wilwood are used.
It is a complete on-road and on-track package.
Aggression, visual muscle and shaved off weight
This time, Shelby took the liberty to give Mustang a complete makeover, not leaving any stone unturned. The front gets carbon fibre Super Snake hood, bejewelled with a forced-air scoop right above the central grille.This new grille hosts upper and lower portions of front intake, made of black anodised material, giving it an aggressive look.
When it comes to aerodynamics, the front gets a carbon fibre splitter, whereas the boot gets a larger carbon fibre spoiler. The tail lamp, new rear diffuser, and rocker panels with side skirt aero blades in front of the rear wheels has also used carbon fibre to shed some weight.
Interior gets the Shelby touch
As said earlier, Shelby did not left any stone unturned, whether it be under the hood, exterior and looks or, the cockpit. A special CSM badging, Shelby floor mats and sill plates, or the headrest covers, everything gets the Super Snake treatment.
The dash-mounted gauge pod makes it possible to keep a close eye on things happening under the hood, like oil pressure or the boost pressure. Customers have a choice to opt for several extras, either functional or aesthetic, like carbon fibre latch cover, Shelby valve covers, racing seats, upholstery upgrade, and five-point racing harnesses.