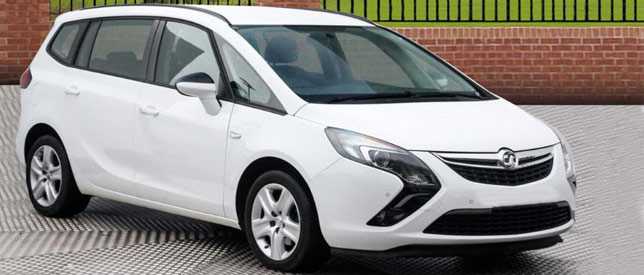 12

Oct

17
Great to drive, nice seats and engine is simply vigorous
Introduction:
Vauxhall Zafira Tourer is one of the most famous and credible vehicles of Vauxhall company. It is a seven seater comfy people carrier that gives tough time to all of its rivals like Ford S-Max, Volkswagen Sharan etc. and the happiest thing is that it beats all of them both in terms of sale and efficient technology. Some other competitors of this monster may include Hyundai Santa Fe and Kia Sorento which offer seven-seat SUV options as well as Renault Grand Scenic and the Citroen Grand C4 Picasso are also on the list. This vehicle is revealed to the world in 2012 and it is bigger and larger as compared to rest of the preceding Zafira models. The particular strength of Vauxhall Zafira is its ability to move chairs around but even though along with its bigger structure, the seventh seat is only appropriate for children.
Another feature includes the turning of middle row's central chair into an armrest easily. Although this vehicle is presented to people a few years back it gained popularity in 2016 when the boomerang-shaped headlamps were replaced with a more decent front end. The interior was also improved by adjusting the feature of up-to-date touchscreen center console and a completely new design of steering wheel in it.
Engine
The only petrol in the existing line-up is the strong 1.4-Litre turbocharged four-cylinder engine. It has the similar peak power of 138bhp (delivered from almost 4,900-6,000rpm) as the now-unavailable 1.8, but it has improved torque, the highest being 200Nm from 1,850-4,900rpm – joining together neatly along with the arrival of the brake horsepower.
This sturdy 1.4-Litre petrol engine is an excellent engine in many ways and probably, a 0-62mph time (along with a manual gearbox) of less than ten seconds recommends it doesn't struggle to shift the Zafira Tourer's large body. But its emissions figures and economy are a bit average, so you're better off surrendering a tiny bit of acceleration and selecting the 1.6-Litre diesel instead.
1.6-Litre CDTi engine, the Whisper diesel
Vauxhall prefers to call its 1.6-Litre CDTi engine, the Whisper diesel, but if you can get through the clunky name, it's a beautiful, smooth and very quiet unit – our preference of the range. Maximum power is about 134bhp at 3,500rpm, whereas it's the superb 320Nm from only 2,000rpm that makes it a soothing and pleasant engine to cope up with. The swiftest Zafira Tourer of the lot is the 2.0-Litre diesel engine, which builds 168bhp at 3,750rpm and a vigorous 400Nm from 1,750-2,500rpm, even though we'd say this engine isn't quite as sophisticated as the 1.6. It does have an automatic option, even, if that appeals to you.
A word of concern on those automatics: they include £1,520 to the list price of the 1.4-Litre turbo petrol, and either £1,055 or £1,120 particularly to the 2.0 CDTi, and in both examples they marginally blunt performance. The 1.4 manual does 0-62mph in probably 9.9 seconds and goes on to a 124mph top speed, whilst for the automatic, the same data record 10.2 seconds and 122mph. For the 2.0 CDTi, the best of the manual is 9.1 seconds and 129mph contrast to the auto's 9.3 seconds and 127mph.