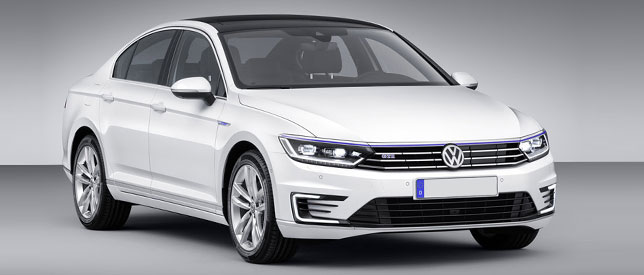 29

Sep

14
Volkswagen Passat GTE Plug-in Hybrid gets 215bhp petrol-electric powertrain to do 622 miles and 141 mpg
Volkswagen Passat plug-in Hybrid will go on sale in UK from next year. It is making its first public appearance at Paris Motor Show but details are revealed ahead of the show. It has a plug-in Hybrid powertrain that is further supported by a powerful yet economical petrol Hybrid engine.
It is a modular petrol-electric hybrid system same as the Golf GTE and uses 1.4 Litre four cylinder direct injection turbocharged Volkswagen engine. This petrol engine develops 154bhp at 5500rpm and supported by an electric motor mounted within the front section. A standard six speed dual clutch automatic transmission is used to handle 113bhp from motor with 243lb-ft of torque.
The all new disc-shaped motor can propel the GTE independently to offer zero emission capability and along with the petrol engine it maximises fuel economy. Electric motor uses the 9.9kWh lithium-ion battery pack which is about 1.2kWh larger than that of used in the Golf GTE. It takes four hours and 15 minutes to charge the battery pack on a standard household socket, however an optional 360 volts charging box can charge it in two and half hours.
The electric and petrol system delivers a combined power output of 215bhp and torque of 295lb-ft. it can cover 31 miles at the speed of 80mph on electricity only while engine and electric motor can boost the performance if they work together. Combined fuel consumption is claimed over 141mph on the European NEDC Test procedure where it emits only 45g/km of CO2. A 50 Litre fuel tank and a fully charged battery pack covers more than 622 miles.