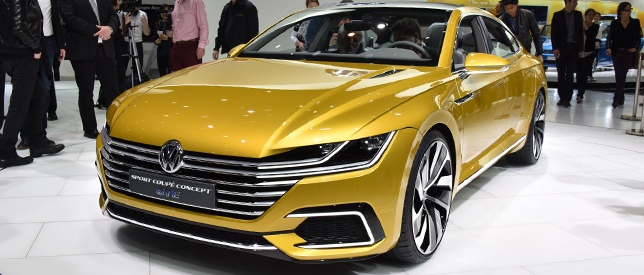 14

Mar

15
The official design sketches were leaked earlier and already attracted huge audience, now enjoy the real show-off.
Geneva motor show is going to be so wonderful at its end on 15th of March. The top auto manufacturers from around the globe have unveiled some of their most desired concepts and creations. What we fancy was the new Volkswagen Sport Coupe Concept dubbed GTE. What one can understand from looking at the beauty is that it will be a replacement for Volkswagen CC. When it will go on sale at the end of this year, it will be forming some part of the eighth-generation Passat range.
What else do the new Coupe tell? Well, one can easy see the wider grille as a part of styling feature, which runs right down to the width of the car. The front bumper offers very prominent yet lower air vents integrated into it brilliantly.
The dual exhaust exits at the swept back design rear boot lip are really bulbous.
The details on the powertrain used in this marvelous vehicle are according to your expectations and Volkswagen has confirmed a 3.0-litre turbocharged V6 petrol engine along with two electric motors. The German automaker has promised an "innovative" four wheel drive system for GTE.
It is also said that Passat GTE is the model from where the new Coupe gets inspiration for its power-train. Capable of returning up to 141 mpg.
Volkswagen is highly confident of it new CC model and are proudly claiming that it will take a good fight to Audi A5 Sportback and Mercedes-Benz CLS, its known major rivals. This new car will be a remarkable substitute to B and C segment classic saloons.