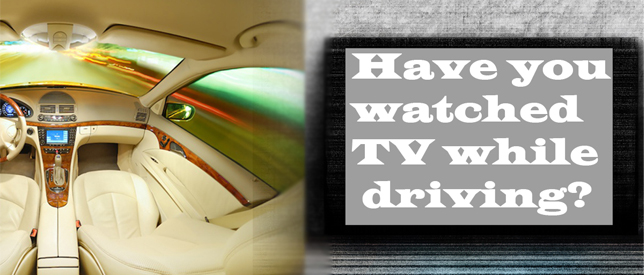 11

Feb

14
Drivers who watch TV while on the road are putting lives at risk by not giving full attention to the road
• Watching TV while driving illegal since 80's
• Concerns raised by ministers, police and road safety groups
• £150 can unlock all the safety features in your vehicle
Drivers who watch TV while on the road are putting lives at risk by not giving full attention to the road. Road safety and motoring groups have expressed shock and horror at a growing and illegal trend which angered ministers and they branded it as "irresponsible, dangerous and stupid" and which police say will be prosecuted strongly.
All cars come with safety controls which stop the driver from watching anything on the screen other than driving information. Road safety minister Robert Goodwill explained: "Since the eighties, it's been illegal to view a screen while driving, unless that screen is displaying driving information. Any motorist caught by police will be severely penalised." Drivers are getting around this by hacking into their cars' electronic systems to disable safety controls so that they can watch soaps or blockbuster movies on screens. You can get your hands software and electronic devices, priced from £150; 'unlock' the safety barriers put in place by the manufacturer and start watching TV when a car starts moving.
Some car owners are even resorting to 'DIY' options by fixing iPods or small tablet computers on their dashboards to watch downloaded movies or use Wi-Fi to watch programmes. AA president Edmund King also expressed his concern. "The police need to take these TV junkies off the road," he said.