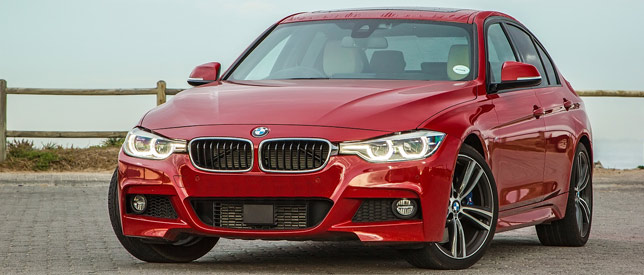 11

Dec

17
Those fine and smooth characteristics give it the medal
A very interesting fact to know is what people think about a diesel engine. It's noisy, needs a lot of revs to accelerate and it is mostly underpowered. But these days this is not the case and things have changed to a lot in most of the car brands.
No one can make diesel like they do in BMW. Sitting in the car, you can never guess the diesel part and the car feels as luxurious as it is when powered by a petrol engine.
You cannot be comfortable as well as accelerate to the extent of a sports car speed but BMW 330d is certainly an exception. Giving the best driving and traveling experience a saloon can ever give to someone.
Although the rivals try hard to reach that perfection what they get is very close standard, in fact, BMW can still not be beaten. This is a complete package what it is from outside, same it is from inside. Luxury is depicted from each aspect and everything is placed exactly where it should be.
Engine is a Miracle
The engine fitted into this machine is a 3.0-litre turbo-diesel 245bhp accompanied by six-cylinders. The engine is as quiet as it can be a pin drop silence and as smooth as a feather. The 384lb ft of torque sent to the engine when the pedal is pressed takes the car from 0-60mph in just 6.1 secs.
Sitting in the car is an unforgettable experience as if you are flying it on the road. Only when a wrong gear is selected the car will make a grumbling noise but it will soon wear off. But be humble as you are the one responsible for this, not the vehicle.
Impressive Interior and Fuel Economy
The interior is comfortable. The touch-screen and every control are in the range of driver and what you get is a lovely driving experience. Fuel economy impresses the owner and the BMW's Efficient Dynamics Intelligent Energy Management is a real energy saver.
In simple words, it is the system that uses breaks as a regeneration of energy. The New 330d is friendly to the environment with electric power steering and a more efficient alternator which makes the CO2 emission very low.
How the Saloon handles itself?
Remember that you are in a car which is intelligent and obey at the same time. It will obey intelligently and never let the driver face any danger. Speeding in the corners is a fun and the way this engineering puts itself back to the balance again is not less than a superb work done at the manufacturer's end.
The 50-50 car balance does a great job in retaining the equilibrium if for some time the rear gets out of line. The steering is well weighed according to the weight of the automobile. The way this engine speeds up requires suspension refinement and an obeying steering, which the BMW provides flawlessly.