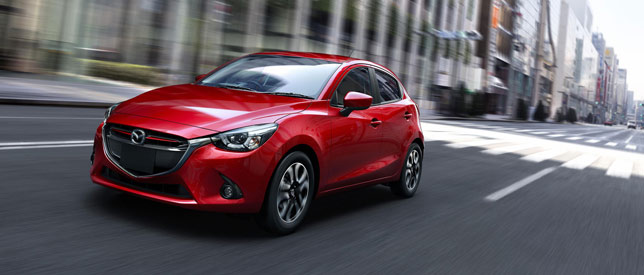 20

Mar

17
Mazda 2 is efficient and economical in performance
Mazda 2 gives fine and smooth driving experience with economy
The Mazda 2 is a small hatchback family car with efficient performance and good repute. Though there is lot of variety in this class available in the market such as Ford Fiesta, Vauxhall Corsa, Volkswagen Polo, Skoda Fabia and Renault Clio, but Mazda 2 has its own worth in this class. It is not the best small car of its class but with good distinctive features and technology-laden exterior and interior along with efficient engines it has its share in the market and customers have noticed its qualities.
The strong built with Mazda badge on its front; the new Mazda 2 gives tough competition to its rivals. Though it is little bit expensive to buy if we compare its price with other good brands but it is well equipped with lot of quality features to compensate its minor high price. It is best in town riding with petrol and diesel engines with good efficiency, thanks to Sky Active technology that Mazda used in its Mazda 2 vehicles.
With one diesel and three petrol engines Mazda2 performs efficiently
The petrol engine range starts with 1.5-litre turbocharged that is capable of 73bhp and 100lb/ft torque. Mazda 2 is a small hatchback class so small unit like this petrol engine suits it best. This engine takes 11.7 seconds to reach from 0-62m/h with top speed of 106m/h. This is a small unit giving 60m/g of fuel average with 110g/km of Co2 emissions. This engine is fitted with five-speed manual gearbox and front-wheel drive system.
The second version in 1.5-litre turbocharged petrol engine is available with 88bhp and 109lb/ft torque, having some extra power than the previous one. It takes 9.0 seconds to get from 0-62m/h with 114m/h top speed. Its fuel average is 62m/g and Co2 emissions are 105g/km. This version is available in five-speed manual transmission and six-speed automatic transmission with front-wheel drive assembly.
The third version in this series is the impressive one in performance. It is 1.5-litre turbocharged with 113bhp and 109lb/ft torque. Extra bhps give this version a quick start and good top speed. It takes 8.4 seconds to get from 0-62m/h with top speed of 124m/h. the fuel average is 56m/g and Co2 emissions are 117g/km. This version is available six-speed manual gearbox and front-wheel drive unit as standard. All models of Mazd2 are available with five-doors. All petrol engines are naturally aspirated along with Sky Active technology that is incredible by giving boost in fuel efficiency.
Diesel engine is also impressive in performance as well as in fuel consumption
The one and only diesel engine is available in 1.5-litre capacity with 103bhp and 162lb/ft torque. It is better than some of petrol engines of Mazda2. It takes 9.8 seconds to get from 0-62m/h with top speed of 111m/h. This diesel engine is more than efficient in fuel consumption with 83m/g along with just 88g/km of Co2 emissions. This engine is available in six-speed manual gearbox and front-wheel drive system.
The interior of Mazda 2 is matchless in its class
If this brand is expensive to buy but offers such a stylish, refined and elegant interior stuff that is matchless in the whole class of this small hatchback. Mazda has used excellent stuff with top standard and quality to make the interior of its Mazda 2. The built quality and the mixture of different features give a good and complete sense if we compared it with its predecessors.
The dashboard is simple and easy to use; the dials are in proper place and access. Leather stitched seats give a smooth and comfortable feeling. The circular air vents gives sporty look. Gear knob with metallic round dials around it gives a sober look. Standard features such as automatic headlight, auto wind screen wipers along with parking sensors and lane departure warning system are fitted in this small hatchback.
The new Mazda 2 is more practical than the previous one
Though Mazda 2 is available with more practical interior than its previous models, but if we compare it with its rivals then it is not as spacious and practical as they are. Anyhow its five-door openings with good space for five adult passengers are reasonable. There is good knee and head room at front and rear. The seating arrangement is good and in professional manners.
The boot space is also less than its rivals. 280-litres of boot space is less practical than Corsa with 285-litres, Clio with 300-litres and latest Skoda Fabia available with 330-litres. Seat-Folding arrangement makes this capacity big up to 950-litres. The inner passenger space and storage capacity is quite reasonable and practical one.
Mazda 2 offers a reasonable driving performance with fun
Mazda is known as a manufacturer who gives more focus on refinement in its vehicles than any other aspects. In New Mazda 2 we feel that feature physically. Though it is not a class leading small hatchback, but Mazda 2 offers a good driving and handling experience than before. The steering-wheel is accurate and well precise offers good road grip and control body rolls effectively. Mazda2 offers a good town ride and on the same time equally good on motorway with its smooth driving experience. The customer satisfaction survey reflects its high repute among its users.
Safety and reliability is up to international standards
The structure of Mazda 2 shows its reliability and safety features used in this small hatchback are up to international standards though not tested by Euro NCAP yet, but Mazda has assured this aspect. The blind spot warning system, lane departure warning system, traffic around you alert and warning system during reverse in poorly-sighted parking space is efficient in working. All models of Mazda 2 are available with airbags and side curtains, traction control and stability control systems, auto frontal collision avoid system and pedestrian collision avoidance system at 18m/h speed is a good addition. As far as its reliability is concerned, it was on 29th position out of 150 vehicles in general survey of reliability 2016. Users are quite satisfied with its durability and strong built as well. Mazda ensures its customers to give them best quality product with efficiency and practicality.