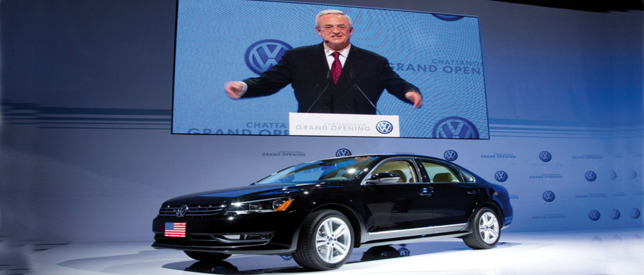 23

Sep

15
Volkswagen emissions scandal getting worse where the CEO of the company admits that they have cheated the emission tests
In the scandal of cheating the emission tests of new vehicles, Volkswagen is accused of breaking the trust of their customers. In this regard, Volkswagen could face almost £12billion fine for breaking the trust of its customers on emission standards. Now the situation has been changed by the statement of CEO of Volkswagen, he said that "Volkswagen has broken the trust of its customers". It is like a confession of the actions of Volkswagen.
There are almost 11 million new cars sold globally by Volkswagen during this period that clearly mean, those cars were equipped with 'defeat device' software. This software allows the German automaker to cheat the vehicle emission tests.
Although sales of some diesel models have halted in the U.S. these sales halts affected both Audi and Volkswagen models with the tricky software. Both brands are now facing a growing pressure of recall.
In a statement, CEO of Volkswagen Group, Martin Winterkorn said that he does not have answers to all the questions at the moment. The company is going to clarify the background of the scandal and every fact is being put on the table to evaluate quickly, thoroughly and transparently. The group has set aside £4.7billion to cost this scandal.
A sophisticated software algorithm was built in the four-cylinder Type EA 189 Volkswagen diesel engines, to cheat the emission tests. These algorithms were used in both Audi and Volkswagen models.
According to the EPA the algorithm was traced out when the vehicle was put under a detailed emissions test by the agency of their own. When the vehicle was unplugged from laboratory settings, EPA found that the vehicle was emitting the Nitrogen Oxide NOx up to 40 times than of the legal limits.
In another statement, CEO of the group said, "The irregularities with these engines contradict everything for which Volkswagen stands. We want to continue to work closely with the relevant state departments and authorities."
Currently, authorities claim that the scandal will affect more than 482,000 diesel passenger cars by Volkswagen group from 2008 to 2015, including VW Golf, VW Jetta, Beetle and Passat as well. Audi A3 will also affect in this scandal.
So, what do you think, the fine of £12billion will be the price of your trust in Volkswagen or there should be something more than that. After the statement of the CEO quoted by Auto Express, it is clear that Volkswagen was cheating the customers since 2008.