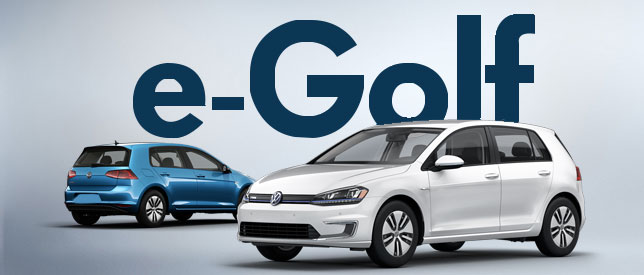 3

Jun

17
New features of Volkswagen Golf with powerful engine
Volkswagen e-Golf 2017
You might confuse e-Golf for Golf because the resemblance is uncanny. But looking a bit deeper you will realise fine changes in the car.
Package under the hood
What's under the hood? Buyers are always more interested to find this out. The engine has been upgraded to its more powerful version. Several improvements have been made to ensure better performance than its predecessor. The 24.2-kWh pack was used in e-Golf's last year edition which now has been replaced with the 35.8-kWh battery pack. The 100-kw electric motor has also been upgraded rendering more strength than ever. An elevation in torque and power outputs is observed as a result of all the advancements. The new Golf's engines are competent enough to give 134 horsepower output as compared to the predecessor which could only give 115 horsepower. Similar is the case with torque. Torque has increased from 199 to 214 lb-ft which is an obvious difference.
Volkswagen Golf claims that the car is capable of rising to 60mph in a record time of 9.6 seconds. The top speed was also recorded to be 85 mph which is quite impressive. Despite giving such remarkable figures the engine makes no noise under the bonnet. When compared to most cars, this car gets an edge of the peaceful and quiet cabin.
What does it look like?
LED tail lights are an addition whereas LED headlights are optional. Volkswagen Golf Grille is in a better-looking shape than before. Spoiler has also been altered a little which is hardly noticeable. 16-inch wheels also contribute to the outclass stylish exterior of the car.
Inside view
As you step inside the cabin, it is quite similar to Golf. Now wonder you will find yourself already familiar with some features and settings.
Seats are super comfy offering relaxing back and leg support which plays a key role in distant travelling. Keeping its tradition, Volkswagen has never compromised on quality. Same is the case with e-Golf. Materials used throughout the cabin are extraordinary. From leather seats to knobs, button and dashboard design everything is made to perfection.
Inside Volkswagen Golf
A three-spoke steering wheel gives you a smooth driving experience. Meaning you do not have to work a lot rather you can enjoy the drive by having more control over the car. In front of the steering are a speedometer and a small digital screen for information.
The infotainment system is worth mentioning too. With its large 8-inch screen display. Many functions of the car are efficiently controlled by it including dual-zone climate control, controls for the heated seats and gear shifter. The most important attribute that makes it a family car is being spacious. Back seats can easily be folded making more room for heavy luggage.
Latest tech integrated
The basic driver assistance package is now part of every car nowadays making it more versatile. VW e-golf is no less. It has all the attributes necessary for a modern car. Advanced driver assistance package (adaptive cruise, forward collision warning with automatic emergency braking, lane assist, blind spot monitoring and more.