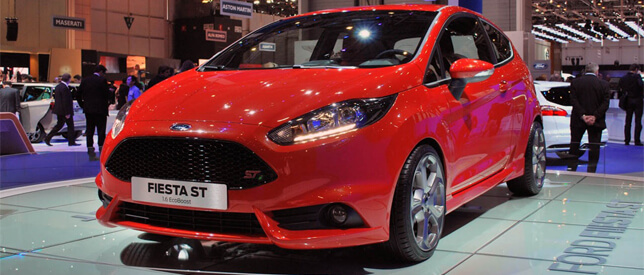 29

Feb

16
Ford to present a series of new and improved models of its Fiesta ST, Vignale and S-Max at Geneva motor show
Ford will launch new performance models and expanded Vignale portfolio along with fiesta ST and S-Max at this year's Geneva motor show.
The media and automotive news has sprinkled some spice on the rumours to make the Ford's presence at the motor show even hotter and add some weight to the Ford Fiesta ST because it is also on its way to Geneva. The new model will be available under the name of ST plus and there will be more powerful Ford Fiesta ST engine with 212bhp.
What it will look like?
Although nothing has been officially confirmed or claimed by the automaker but it is expected that the car will be offered with an aggressive body kit and sharper chassis configurations.
The chassis has been refined to facilitate the 1.6-litre turbocharged engine in the new Ford Fiesta ST.
How Luxury Treatment?
Alongside the Fiesta ST plus, there will be other models on the stage with the high performance specs. It is expected that Ford will introduce new Vignale spec cars. This is even not confirmed by the automaker and they have remained tight lipped on this issue that what exactly will be offered. Whatever will be offered, definitely get luxury treatment, however, some industry insiders are expecting a new Galaxy.
S-Max Vignale Concept
According to the Ford insiders, the S-Max has been demonstrated as a strong candidate as a Vignale based S-Max. Currently, there is only one model on the Ford model line-up that has received a Vignale treatment and that is Ford Mondeo Vignale.
The all new S-Max is expected to get the same treatment as of the Mondeo. It will include massage functioned leather seats, soft plastics and sound proof interior, a bespoke body trim and even more equipment will be offered as an option. From only £4500 extra you will get a Titanium equivalent model.