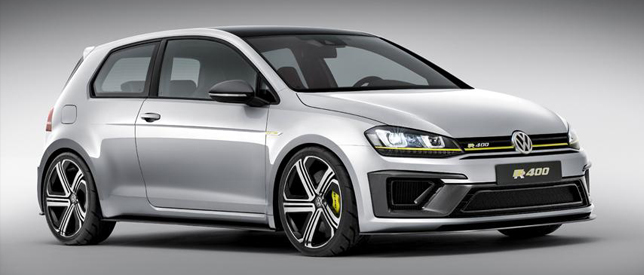 5

May

14
VW has finally made public a new concept of Golf R 400, at the Beijing Motor Show with 395bhp of power
The VW Golf was first introduced 40 years ago and VW was frequently claiming it a sporty looking model but there was actually something missing and it was the potential. Yesterday at Beijing International Auto Show, Volkswagen has finally kept his promise by instigating the VW Golf R 400.
It is an actual sports car with a great power to weight ratio of 3.4bhp per kilogram, "a racing car figures?" yes definitely they are…
Dr Heinz-Jakob Neusser is a member of Board of Management at Volkswagen and he told the automotive journalists that VW Golf R 400 is a ready to production model and VW will make it happen soon. He said; "What we have to do now is build it."
The new model has retained the iconic shape and styling cues of Golf but it rides on a new 19-inch alloy wheel design with 40mm wider base than the standard Golf models. The engine choices are based on the standard VW Golf R and the R 400 model is using the 2.0 Litre TSI engine with a massive updating package to make it more muscular. Now this engine is capable of producing an almost 400bhp of power along with a brawny torque of 450Nm, where a standard Golf engine is capable of turning out only 296bhp of power and 380Nm of Torque.
The all new engine unit shifts its angriness on a six speed dual clutch DSG gearbox that further runs the permanent Haldex all-wheel drive system. After all these configurations, you can imagine the power and performance of Golf R 400. It has massive boost to slash a second off the pace from zero to 62 miles, made it happen in only 3.2 seconds and has the top speed of 174mph.
The dramatic R400 takes the meek Golf to a whole new level of power, performance and sheer attractiveness but now the point is that, can Volkswagen afford not to build it?