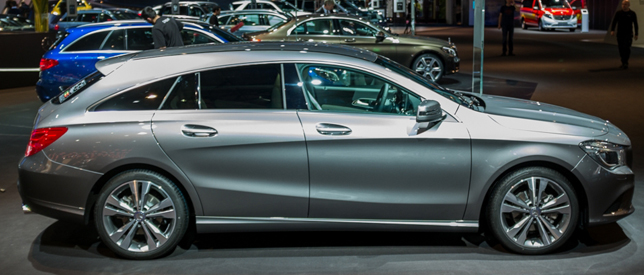 19

Mar

15
What experts say about this car is that it has extra space for luggage and sweet ride on bumpy roads.
It has been a while since we heard any news from German car maker, Mercedes, but at the Geneva Motor Show 2015, it came with five new models. Yes! that's right, we talking about the Mercedes AMG GT3, Mercedes C-Class PHEV, Mercedes CLA Shooting Brake, and Mercedes GLE and last but not the least, Mercedes GLE Coupe.
The pictures show that there are no significant changes in the looks of two vehicles, the Shooting Brake and the standard CLA four-door coupe. The Shooting Brake comprises of a long bonnet and a single-bar front grille which is wide and give the front end an elegant look. Although both models look identical but from B-pillar onward, you'll notice the changes.
It is becoming a prime concern for everyone now-a-days to have capacious boot and Shooting Brake answers it just right. Now the capacity is 495 litres and gets too gigantic 1354 litres when you fold the rear seat flat. If you are still hungry for more space, just bolt the rear seats in more upright position and enjoy additional 100 litres. It's not just the boot space, the rear passenger space is also delightfully generous.
In the beginning, four trim levels are introduced and they are AMG, Sport, AMG Sport, and Engineered by AMG. But a special edition named "Orange Art" will soon be released. "Engineered by AMG" version will only be coming in the four-wheel drive 250 4MATIC model which produces 208 bhp.
It is also anticipated that the new 220 CDI 4MATIC will be using the Shooting Brake and later on followed by the coupe too, they will most probably be showing up in September next year.
The CLA 200 CDI is an economical option and returns 72.4 mpg and CO2 emissions are of 101 g/kg. Standard equipment remains almost the same as in CLA saloon except the tailgate which is now electric and then the lockable boot floor with aluminium load rails and 12V socket.
The Shooting Brake will be put on sale in March 2015 with a starting price around £25,700.