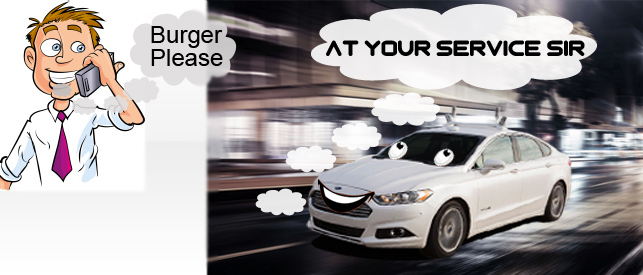 25

Feb

14
A self-driving car that takes 2.5 million measurements every second has been revealed by Ford
Milton Keynes will be the first city to get Autonomous pods on pavements by 2015 in the UK
Tell the car you are hungry and it will take you to the nearest restaurant
Humans driving a car will soon be a thing from the past as Ford unveils an autonomous vehicle, which can even get you food when you feel peckish. This new autonomous car took a decade to design and build, is equipped with four infrared light sensors mounted to a roof rack. The sensors constantly scan the road, searching for objects including other vehicles, pedestrians, cyclists and small animals.
Ford's new autonomous vehicle will also tell you the nearest restaurant when you tell the system you are hungry. "People always want to be connected with their car and I think we are democratizing technology by making some of the features available on the Focus" said, Stephen Odell, executive vice president of Ford. "For instance not only can you parallel park the car you can perpendicular park the car and the technology in the car will enable you to come out of the parking space while looking around for any vehicles coming toward you." Odell said: "Our brand strength continues to improve, actually enabled by technology-leading events like this with the most advanced car in the marketplace. We are absolutely on track."
These measurements are turned into a real-time 3D map that is fed into the car's on-board computers. Speaking at Mobile World Congress, Stephen Odell said: "Our automated research car represents a vital step toward our vision for the future of mobility. We see a future of connected cars that communicate with each other and the world around them to make driving safer, ease traffic congestion and sustain the environment."
This is not where this ends as Ford is also developing software that predicts how pedestrians and other vehicles will move, as well as techniques that allow sensors to see around stationary objects. However, there is one thing to keep in mind; the company is not the first to unveil a self-driving car. Google has been testing a driverless version of the Toyota Prius on public roads in California since September 2012, and has clocked up more than 300,000 miles without a major crash. In the UK, Milton Keynes will be the first city to get Autonomous pods on pavements by 2015.