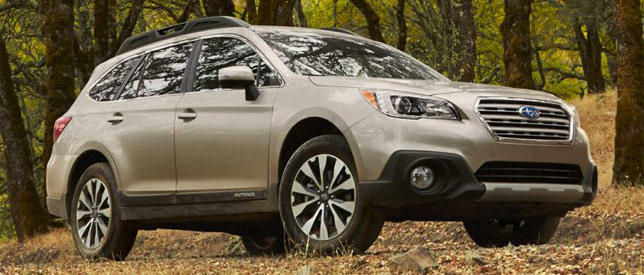 13

Mar

17
Subaru four-wheel drive approach makes it prominent
The Subaru Outback is a good choice due to its practicality
The Subaru Outback is an impressive vehicle with four-by-four ability. It has improved a lot and in its fifth-generation we have the very refined Subaru Outback in the shape of new model. It has the ability to go anywhere with its 20cm ride height which prevents the underside of the car from rough terrain. The new Outback can be compared with Audi A4, Skoda Octavia, Volvo XC60 and VW Passat Alltrack.
The engine range is very limited one
There are just two engines for Subaru Outback, one is a Subaru petrol engine and other is a Subaru diesel engine.
The 2.0-Litre diesel engine is capable of 147bhp and 258lb/ft torque. It is a powerful engine with four-cylinder and takes 9.4 seconds to get from 0-62m/h along with the top speed of 119m/h. The fuel consumption of this diesel engine is very economical and offers 50m/g of fuel average with 145g/km of Co2 emissions. These facts and figures are acquired when this engine is fitted with six-speed manual gearbox and four-wheel drive system. This engine is also available in seven-speed LinearTronic automatic gearbox and four-wheel drive system with different output. It takes 2.0 seconds extra to reach from 0-62m/h but top speed is 124m/h. The fuel average slips from 50m/g to 46m/g and emissions are 159g/km.
The 2.5-Litre petrol engine is of 172bhp and 173lb/ft torque. Though its top speed is more than diesel engine with 130n/h, but it takes some extra seconds to get 0-62m/h. It takes 9.9 seconds. The fuel consumption is high but affordable with 40m/g and Co2 emissions are 161g/km. This engine is also equipped with six-speed LinearTronic automatic gear transmission and four-wheel drive system.
The diesel engine is impressive in performance. The best thing in Subaru Outback is its four-wheel availability by which it stands out from the crowd of congested outback market.
Safety and reliability
The Subaru Outback is impressive in its safety measures and features. The collision avoid system is the most advance feature which operates automatically when it will feel that driver can't do anything to avoid the collision. Cruise control with speed limiter in an addition also.
The front camera mode allows the vehicle to reduce speed automatically when the safe distance is remaining from the front vehicle. The rear camera and parking sensors are efficient in working. Its four-wheel drive system gives you the best road grip and stability. The automatic stability control system is efficient one. The Subaru has scored five stars in Euro NCAP crash test. The Subaru Outback has a very unique feature named EyeSight feature. There are six airbags as standard with side curtains.
Practicality and boot space
The Subaru Outback is exceptional is practicality or boot space. The seating arrangement is good and spacious, offers enough space for adults at rear seats with plenty of knee and head room spare. The front seats are impressive ones with lot of adjustments. The boot offers 515-litres of space along with 1848-litres after folding sets. There is a useful low loading lip also. The interior is also good, stylish and comfortable. The features and equipment's are of good standard.