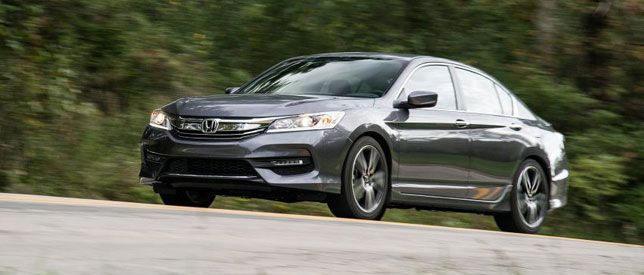 6

Feb

17
Lack of new technology pulls it back from the rivals queue
A Midsized Luxurious and well-equipped Family Saloon
The Honda Accord is a well-known series of luxury saloon cars manufactured by Honda since 1976. Under the tag of Honda, Accord is manufactured all over the world and considered as a live option to choose for all seasons. It is the best-selling item of the house and Honda gives the audience the newer things than the previous one every time.
Now we are in its ninth generation, which shows its competency and worth not only in the minds of the users and manufacturer's alike. There are competitive rivals of Honda Accord like Ford Mondeo, Mercedes C-Class, BMW 3 Series, Vauxhall Insignia and Volkswagen Passat. Some critics have their opinion that Honda Accord is just for a limited class of users, but I personally think that class makes the difference.
The engine range is smooth
Though the engine range is not as fast and quick as its rivals has, but overall performance is well under the weight of Accord. The 2.0-i-VTEC four-cylinder petrol engine is a good one with 154bhp and 142lb/ft torque.  It takes 9.1 seconds to get from 0-62m/h with top speed of 134m/h.
As we discussed above little bit slow in sprint as compared with BMW 3 Series and Mercedes C-Class and other market brands of its class but not a bad option to use with good 40m/g of fuel average and less emissions of 159g/km. It is fitted with six-speed manual gearbox and front-wheel drive assembly as standard and with automatic transmission optional.
The 2.4i-VTEC four-cylinder is a powerful version in petrol lineup. It produces 198bhp and 173lb/ft torque. It is impressive in speed and sprint. It takes 8.0 seconds to reach from 0-62m/h and its top speed is 142m/h. Though it is not a fuel friendly version with 32m/g of fuel average, but makes the ride comfortable and relaxed with effortless increasing speed and acceleration.
To maintain good fuel average the Honda is in need to use stop-start or turbo petrol engine technology as we find in Ford Mondeo and Volkswagen Passat. The CO2 emissions of this petrol unit vary from 195g/km to 199g/km. It is fitted with six-speed manual and five-speed automatic transmission and front-wheel drive assembly.
The diesel engine range is limited but quite efficient.
There is only one diesel engine with two different outputs for Honda Accord. Both versions are well refined, smooth and manage good fuel average. The 2.2i-DTEC of 147bhp and 258lb/ft torque is capable to reach from 0-62m/h in 9.1 seconds with top speed of 132m/h. It gives 53m/g of fuel average with 138g/km of CO2 emissions.
In Type-S this 2.2-litre diesel engine is with its peak performance and produces 177bhp along with a massive amount of 288lb/ft torque. It is the fastest one in Accord engines range with 8.5 seconds to snatch 0-62m/h and top speed of 177m/h and fuel average of 50m/g is also impressive with 147g/km of CO2 emissions. It is fitted with six-speed manual gearbox as standard.