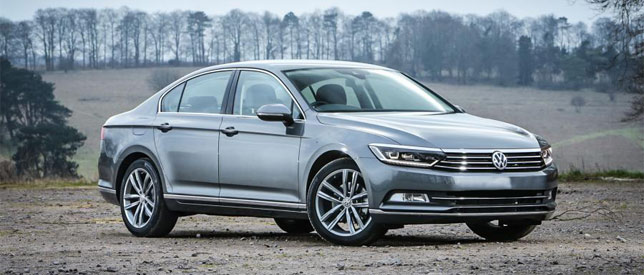 8

Apr

17
Passat is sexy and classic car with luxurious feel, spacious interior, upmarket quality cabin
History of Volkswagen Passat:
Volkswagen Passat is a large family car manufactured since 1973 by German automobile manufacturer, Volkswagen. The Passat came up in eight design generations including first generation B1 (Typ 32; 1973-1981), second generation B2 (Typ 32B; 1981-1988), third generation B3 and B4 (Typ 35i; 1988-1996), fourth generation B5 and B5.5 (Typ 3B and 3BG; 1996-2005), fifth generation B6 and B7 (Typ 3C; 2005-2015) and sixth generation B8 (Typ 3G; 2015-present).
Introduction:
Volkswagen recognizes that the only way is upmarket for family cars. The class is simply dying out, so it desires to focus on opponents such as BMW and Mercedes. Fortunately for VW, the Volkswagen Passat is a more considerable substitute to these executives than ever. It lacks the badge esteem, but it's got the quality, fine-tuning and technology to compete remarkably with the best.
The newest VW Passat has plenty of progressive tech, containing the latest infotainment and lively safety options, while the GTE plug-in mixture is a showcase for VW's green tech. But it's mainly the core diesel engines that showcase the smart Passat in its best light, showing punchy, smooth and very reasonable.
Engines:
The engine line-up in the Passat stares, on paper, a bit limited: only three core engines, plus the speedier bi-turbo and a plug-in hybrid petrol range-topper. This is practical stuff from Volkswagen though: it discerns only low-CO2 diesels sell in this sector, so has raised the range around the three high-volume TDIs.
The muscular 118bhp 1.6-litre TDI is a smooth, developed engine that these days boasts analogous power to former entry-level 2.0-litre TDI units. It's been optimized to give linear, torquey answer: 250Nm of pulling power is extraordinarily available in a broad 1,750-3,500rpm rev range. A 0-62mph time of only 10.8 seconds means it's really no rocket ship against the clock but is rapid enough not to be humiliated, and a top speed of 128mph means there's abundance in reserve on motorways. The 1.6-litre TDI is existing along with a six-speed manual or optional seven-speed DSG dual-clutch automatic. The 1.6 TDI also appears in eco-optimized Bluemotion guise, though it's manual-only. All the diesel engines are adjusted with an SCR Selective Catalytic Reduction filter that diminishes NOx emissions through the addition of AdBlue fluid. That means all of the models feature AdBlue filler next to the fuel filler, while the Passat's electronics will inform when the AdBlue tank desires refilling.
In spite of the BlueMotion being an eco-special, acceleration against the clock is equal to the regular 1.6 TDI and top speed is essentially 2mph faster at 130mph. Thank the faintly lower drag coefficient and taller gearing for this.
The strong 2.0-litre TDI 150 is the core Volkswagen Passat engine. Its 148bhp production is backed up by, again, a wide spread of torque: 340Nm of pulling power is again obtainable between 1,750-3,500rpm. Similar to the 1.6 TDI, it comes as standard along with a six-speed manual gearbox but is optionally available along with a DSG dual-clutch auto; in this example, a six-speed unit. 0-62mph takes about 8.7 seconds in both manual and automatic guise and the top speed is 136mph.The more prevailing 2.0-litre TDI 190 delivers 187bhp and a full 400Nm of torque between 1,750-3,000rpm. Against the clock, it's a speedy engine: 0-62mph takes just 7.9 seconds in six-speed manual guise, or an even faster 7.7 seconds mainly with the six-speed DSG. That's balmy hatch territory and a top speed of 147mph is appealing impressive as well.
The top-line TDI diesel is Volkswagen's amazing-sounding 2.0-litre BiTDI 240 motor. Its double turbos assist it produce 237bhp at 4,000rpm and a massive 500Nm slug of torque from 1,750-2,500rpm. Befitting its range-topping rank, this engine is only presented with a DSG dual-clutch automatic – this time, its back to a seven-speed gearbox. Volkswagen also only offers this very engine with 4MOTION all-wheel drive, which is rational given the amount of pulling power it boasts. 0-62mph acquires 6.1 seconds, which indisputably is hot hatch territory, and the top speed is just timid of 150mph.
The tech-laden Passat GTE plug-in hybrid is the most complex Passat ever sold. It mates a 1.4-litre TSI turbo petrol engine along with a powerful electric motor and high-capacity plug-in batteries, for a structure total power of 215bhp and system torque of 400Nm. This is fine for 0-62mph in 7.6 seconds and a nice top speed of 140mph. Fire up the GTE, and you're welcomed by the same two-tone chime you obtain in the Golf GTE to let you identify the ignition is on. That's because, unless the battery pack is simply flat, the engine won't ever fire up straight away. If you have a full charge, it will linger that way for most short journeys, as you'll have to move well over 20 miles before the engine cuts in, although you'll do effort to match VW's 31-mile claim.
The Passat will gladly rely on electric drive alone as long as there's vigor in the power pack, and the car falls back on inside combustion only when you pick Hybrid mode and are travelling at speed, or if you're refilling the battery while on the move.
Hybrid shuffles energy applies seamlessly between settings, too, although it seems unwilling to use electrical energy even when the batteries have a respectable charge. Although the VW's engine is far from raucous, you're more aware of it firing up, but that's because there's scarcely any wind or road noise in the Passat.
The GTE comes along with VW's Drive Select system that alters steering and throttle response, but you also get a GTE button that optimizes engine and battery performance particularly for sporty driving. The Passat is quite vivacious in this mode, and synthetic engine sounds are played in the cabin to increase this feel. However, the Passat isn't quite the show powerhouse that GTE mode would show you the way to believe, along with brisk rather than explosive acceleration.
Overall Performance:
The smooth, sophisticated Passat has long been acknowledged for its fuss-free, grown-up drive and the up-to-date eighth-generation model is the most finest and executive-style variant yet. Nevertheless, thanks to the new lightweight MQB platform, which is firmer and has a lower center of gravity, it also grips more dynamically than any Passat before it. Parallel to the latest Volkswagen Golf, the Passat is very cool to drive, with accurate and ultra-accurate steering not proposing much feel but compensating along with easy placement in corners. Because there's less weight, it turns more positively into bends and has more nimbleness than previous models. There's lots of grasp and traction, too.
The hottest Passat still supplies the cushioned ride that's become an emblem of the model though. This, too, is even improved: running refinement is enhanced and the lack of road noise merges with low levels of wind noise to make it feel tremendously quiet and executive car-like on the move.
Upgraded body control adds to the comfort – travelers are rocked and rolled less, along with the Passat's greater composure toting to its smooth, unruffled feel. BlueMotion engine spec does firm up the suspension around the town, which is evident, but it smoothes out the faster you go.
At high speed, on a motorway, the Passat is more comfy than it has ever been, and more than a match for a sincere premium-badged car. Its exclusive styling is now fully matched by a grown-up, classy drive.
No doubt, the Passat GTE has a name and styling indications to invoke ideas of VW's GTI badge, but it's not all that sporty in corners. The hybrid set-up's additional weight can be felt, and there's plenty of body roll. Consider of the GTE as a Passat GT along with hybrid drive rather than a mere GTI, and it makes more sense. It's an unobtrusive cruiser and is contented on long trips, while the suspension soaks up bumps rationally well, though not quite as good as the softer standard car.
Size and boot space in the grand Volkswagen Passat:
The new VW Passat has a much longer wheelbase than its forerunner, but overall length is actually slightly down. The 79mm flexibility boosts interior space but overall length is controlled at 4,767mm, with width of 1,832mm and height of 1,456mm. The Passat Estate has same length as the saloon.
Passenger space in Passat is very impressive. It's not quite as generous as a Skoda Superb, of course, but room and comfort for two adults in the back is still impressive. The seats are sympathetic and it's also easy to step in and out of. As a practical family-focused Volkswagen, the Passat has always given a spacious boot, but the latest model is pretty impressive than ever. The saloon has a seats-up capacity of 585 liters (one of the best figures in this sector). Fold the seats and it extends to a total of 1,152 liters: 60:40 split rear seatbacks are standard on all models.