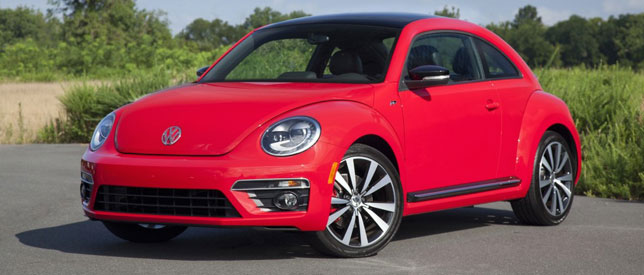 2

May

17
Decent handling, utmost interior, upmarket look, smart space inside and powerful frugal engine makes this car a lion in its segment
If you are shopping around for a hatchback, then you are very near. Your choice must be Volkswagen Beetle, OMG, it's simply exciting and powered by powerful and fuel economic engine. Give this car a try and you will make this buggy, new bride of your garage. So, let's have a look at this queen!
History of Volkswagen Beetle:
The Volkswagen Beetle is an economy car produced and marketed by German automaker Volkswagen from 1938 until 2003. It is two door, rear engine and four passenger decent car with distinctive looks and imperious class.
Size and boot space in Volkswagen Beetle:
With 4,278mm long, the Beetle is a little longer than a three-door Volkswagen Golf which is about 4,255mm long. It's also wider – 1,808mm against 1,790mm. The MINI three-door is quite a lot smaller having 3,822mm length and 1,727mm width. The Beetle is never practical as compared to traditional family Hatchbacks but it is quite impressive against rivals like MINI. Inside, there is a plenty of storage areas, including center console cup holders, deep door bins and two glove compartments. As far as boot space concerns, the Beetle gives 310 litres of boot space, which is 50 liters greater than the latest MINI. The back seats have the ability of splitting 50:50, and when they're folded, the boot space is extended to 905 litres.
The Beetle is powered by powerful and fuel efficient engine:
There are four engine options for the Beetle, the least thrilling of which is a 1.2-litre petrol TSI unit with 104bhp and torque of 175Nm. It will top out at 112mph and does 0-62mph in 10.9 seconds though, so feels vigorous enough for an entry-model. If you want more excitement, then there is another 1.4-Litre TSI engine with 109bhp and 185Nm that does 0-62mph in 8.7 seconds, while the 2.0 TDI diesel has either 109bhp or 148bhp. The former manages 0-62mph in 11.0 seconds and the latter takes 8.9 seconds to do the standard sprint. Maximum speeds are 113mph and 125mph respectively.
How does the Volkswagen Beetle looks from inside?
It's easy to find the Volkswagen Beetle's looks back to the rear-engined original. In spite of this, it's undergone various styling changes to help it fight with modern, classic rivals such as the MINI. In particular, the Mk2 is 84mm wider, 152mm longer and 12mm lower than its immediate forerunner the New Beetle, which has managed to give the latest generation car, a much more decent, exciting and muscular look.
The Volkswagen Beetle is reliable and safe:
Regarding reliability and safety, the Volkswagen Beetle is behind the curve in competition with its rivals but still, all Beetles come with six airbags, anti-lock brakes fitted as standard and electronic stability control, but you won't find foreign extras like adaptive cruise control or city brake assist – even on the options list. Post collision braking is standard, however, along with electronic stability control.