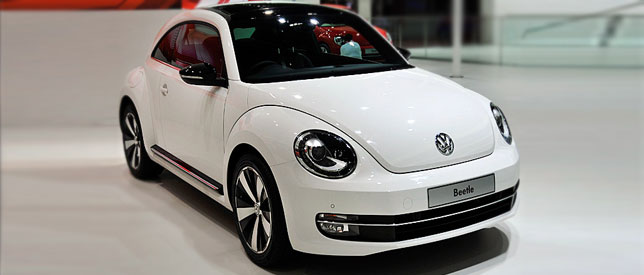 4

Jul

17
Curvy appearance reduces the practicality
VW Beetle Dune sports car is a more stylish car than a practical version
VW has emphasized more on stylish appearance and good looking body structure of its Dune Sports car rather than to enhance the performance overall. Anyways, it is a good to drive with fun and above all, it is available in cheaper rate than the other rivals of the brand. Volkswagen Beetle interior is good, bright and cheery one. It is equipped with all standard features and equipment's in which most of borrowed from VW Golf.
Diesel engine of Beetle Dune sports car is also frugal and economical
There is a 2.0-Litre TDi Blue Motion diesel engine under the bonnet of the Beetle Dune Sports car. VW has used a powerful diesel engine in its Beetle. It is more impressive in performance than the petrol one. It is capable of 147bhp and 251lb/ft torque.
It is quicker than the VW Beetle Petrol Engine with 8.9 seconds to reach from 0-62m/h and its top speed is 124m/h. Its fuel average is also very economical with 62m/g and Co2 emissions are 119g/km. It is fitted and equipped with six-speed manual and six-speed automatic gear transmissions along with front-wheel drive a standard. All engines are available in standard three-door models.
Interior and practicality
Its appearance is great with curvy and stylish hood. Overall look and standard of the material of its interior are reasonable. All features are handy one and mounted well on the dashboard that is wide and broad. Its curvy body structure restricts its practical approach. Its practicality for four adults is a question mark. The three-door body can't compete with the rivals. Though boot storage volume is not bad with 320-litres overall practicality is a little bit disappointing.
It is a safe sports car with well-balanced and strong body structure. It has secured five-star rating from EURO NCAP rating. Its safety kits have made it safe for adults and children as well. Its reliability is also out of question. Its cheap price doesn't mean that VW has compromised with its durability and reliability.
VW Beetle Dune sports car is impressive one with one diesel and one petrol engine
VW has used 1.2-Litre TSI Blue Motion Technology petrol engine in its Beetle Dune sports car. It is impressive in performance. It takes 10.9 seconds to reach from 0-62m/h along with the top speed of 110m/h. It is a regular four-cylinder and sixteen-valve petrol engine with ultra-advanced Blue Motion technology. Its fuel average is 51m/g and Co2 emissions are 126g/km.
it is available in six-speed manual and six-speed automatic gearboxes along with front-wheel drive unit assembly as standard. When this engine is coupled with automatic gearbox there is a slight difference in fuel consumption and Co2 exhaustion.  This combination gives 54m/g along with 122g/km of Co2 emissions.
Basic equipment of VW Beetle is of VW Golf hatchback
VW Beetle sports car is available with these features and equipment as standard. There are air conditioning unit, ABS, remote locking, airbags as standard, electric mirrors, folding rear seats, front fog lights, front electric windows, ISOFIX anchor points, Adaptive cruise control, traction control, service indicator, Steering wheel rake adjustment with reach adjustment and heated mirrors.