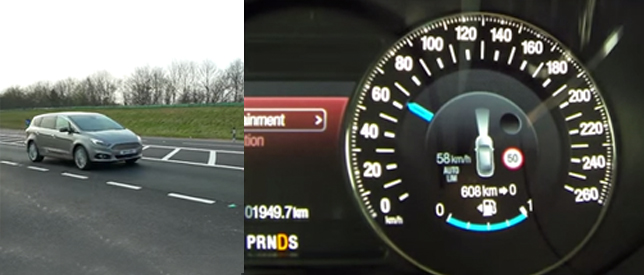 9

Apr

15
If you think you can beat the system, then you have to try the all new Ford S-Max.
Most of the drivers, especially the younger ones, always find it bugging to follow the speed limits, thus they are found disobeying the rules set by the local government. If caught, they pay heavy fines but that doesn't put an end to this, rather it becomes thrill for those funky drivers. Ford has always been one of the top leaders in innovative technologies to make driving safer and more pleasant. This is why Ford has introduced this new system which is hopefully going to prevent accidents and you will also be able to avoid speeding tickets.
This will be achieved through the use of a windshield mounted camera which will see the speed limit and automatically reduce the fuel supply to drop the speed, thus heavy footed drivers will not be able to go any faster than the limit.
It is a brilliantly thought approach which doesn't use the brakes to control the speed, rather limits the velocity of its own. Ford S-Max is going to be the first vehicle ever to feature Ford's Intelligent Speed Limiter tech, planned to be launched in Europe real soon.
It isn't that you will not be able to override this technology, if you need a burst of speed, all you need to do is either floor the gas pedal or deactivate the system with a push of button. Now the question is, what will happen if the car is going downhill? It will simple buzz an alarm for you to apply brake. Other high-tech feature are the collision warnings and pedestrian detection system but that's only if you have deep pockets.
We definitely would love to try this one but it looks like we will have to wait for a little longer for that. The price has not been disclosed yet.